Pewaukee, WI May 2, 2013-- Midwest Engineering Systems Inc., an innovative provider of premier custom machines and integrated systems, has been awarded Fanuc's Intelligent Robotics Award.

Fanuc Robotics America presented Midwest Engineering Systems Inc. with the 2012 Excellence in Intelligent Robotics Award during the Annual Fanuc Robotics Integrators Conference, held in Orlando Florida. This award recognizes robotic integrators for their use of robotic vision systems (sensors, cameras, and imaging technologies) to design 'Intelligent' Robots.
Intelligent robots have similar characteristics to humans because of their human-robot interface functions. They react to their environments to facilitate a flexible process. The engineers at Midwest Engineering Systems program robots to adapt to variable environments and effectively cope with unexpected situations.
Midwest Engineering Systems designs intelligent robotic solutions for a diverse range of applications such as: assembly, palletizing, packaging, welding, and many more.
For more company information and news visit: www.mwes.com/news
Midwest Engineering Systems Inc. has been providing high-quality custom machine design and automation solutions since 1991.
- See more at: http://www.mwes.com/news/intelligent-robotics-award.html#sthash.Cp1fHgBO.dpuf
Featured Product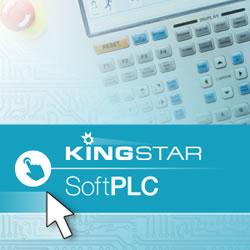 KINGSTAR Soft Motion is an open and standards-based, real-time software-only solution that streamlines motion control automation. Soft Motion runs directly on the 64-bit PC, uses the NIC card for I/O, and uses the powerful EtherCAT protocol to free you from the shackles of proprietary and costly hardware. With Soft Motion, motion control engineers can design, develop and integrate real-time PC-based machine controllers in a "plug-and-play" environment for consolidated, inexpensive and scalable motion control.