Creating competitive manufacturing solutions during the global automation revolution is what we do at PaR Systems. http://www.par.com.
June 08, 2013

The world's automation market is poised for explosive growth and PaR Systems, Inc. is leading the way to enable more efficient and flexible manufacturing. The rate of growth of the world automation market is expected to increase from around 6.5% a year currently to well over a 20% rate after 2015 (footnote 1). To stay competitive manufacturers will need innovative and tailored solutions from the experts in automation.
"We are an innovative engineering systems company whose equipment and services dramatically impact our clients' value to their customers," states Mark Wrightsman, President and CEO of PaR Systems. "A good example of the type of work we are doing is providing automaton systems to enhance the quality and productivity of aerospace manufacturing and inspection of the finished product, thereby lowering the cost of planes and air travel."
PaR Systems is working to provide innovative automation solutions to support production of the 787 Dreamliner, and the F-35 Joint Strike Fighter aircraft with laser technology to inspect carbon fiber parts.
Unlike many companies that ventured into robotics and automation systems, but didn't succeed, PaR Systems has seen significant growth for more than fifty years. From manufacturing solutions for medical device manufacturing to heavy material handling, PaR's solutions come to life on our newly designed website at http://www.par.com.
Featured Product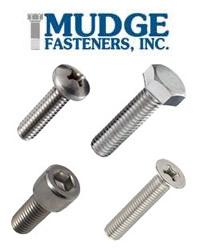 From very small to very large fasteners, in a wide array of materials and platings from stainless steel to cadmium to silver, Mudge Fasteners is a one-stop shop for all Robotics screws, bolts, nuts, washers, inserts, adhesives and more. With over 60,000 products in stock, Mudge also offers custom kitting and packaging, documentation support, specials manufactured to print, performance mockups, fabrication and production consulting.