Now the largest FANUC Robotics material handling integrator in North America.
Ellison Technologies Automation (ETA), a leader in robotic automation, is celebrating its 30th anniversary in 2013. The company has been growing at a remarkable rate over the last 30 years and is now the largest FANUC Robotics material handling integrator in North America.

Originally founded in Omaha, Neb. as Automated Concepts, Inc. in 1983 under the guidance of Marlo Burg, John Burg and Fuchs Machinery, the company flourished and became Ellison Technologies Automation in 2008, the robotics division of Ellison Technologies, Inc. Having installed over 1,800 robotic automation systems by the early 2000's, ETA has installed over 3,600 robotic automation cells to date. The 65,000 sq. ft. facility in Council Bluffs, Iowa is the headquarters for all of their robotic turnkey productions and setups, demonstrating their expanding business.
"Our business is growing very rapidly and it is very exciting to see," says John Burg, President of Ellison Technologies Automation. "Jobs are returning to North America and Ellison Technologies Automation is a part of this manufacturing re-shoring movement."
About Ellison Technologies Automation
For 30 years, Ellison Technologies Automation, a division of Ellison Technologies, Inc., has been a leader in industrial robotic system integration. Located in Council Bluffs, Iowa, ET Automation meets the needs of its customers by developing and programming automated systems that are tailored to the client. Designing robotic automatic systems for agricultural, medical, automotive, military and other consumer business uses, ET Automation's skillful team of engineers and dedicated staff ensures that businesses compete and win around the world.
Ellison Technologies, Inc.
Ellison Technologies, Inc. is the largest machine tool integrator in North America, representing 80% of the metal cutting market. With 22 locations across the U.S. and Canada, Ellison Technologies is committed to the survival and growth of the manufacturing industry. Ellison Technologies provides engineering solutions, service and parts support, turnkey solutions, robotic automation and machine financing.
Featured Product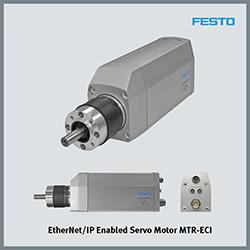 Mechatronic Motion Solutions from Festo is a unique system of components, modules, and software. It integrates all types of pneumatic, servopneumatic and (electro)mechanical automation motion and combines them according to your task. Irrespective of the control system environment you use, Mechatronic Motion Solutions always provides the appropriate interfaces. The fingers can be actively moved and their strength amplified; the operator's hand movements are registered and transmitted to the robotic hand in real time. The objectives are to enhance the strength and endurance of the human hand, to extend humans' scope of action and to secure them an independent lifestyle even at an advanced age.