RIA requires each certified integrator to be recertified every two years.
(Ann Arbor, Michigan - June 18, 2013) PRE-TEC, Eugene, Oregon, has received the prestigious Certified Robot Integrator designation from the Robotic Industries Association (RIA), the industry's trade group.

"We are delighted to welcome PRE-TEC as our thirteenth Certified Robot Integrator," said Jeff Burnstein, President of RIA. "In order to become certified, integrators go through a rigorous process which includes an on-site audit, safety training and hands-on testing of key personnel among other important criteria. Based on feedback from the industry, we believe that achieving certification will be valuable to integrators looking to showcase their capabilities and experience to users and suppliers alike.
"Additionally, the program allows integrators to benchmark their own processes against best industry practices, allowing them to identify areas in which they can improve. This also helps the industry by strengthening the overall integrator channel," Burnstein explained.
"PRE-TEC is pleased to be recognized as an RIA Certified Robot Integrator, and our organization feels privileged to be the first from the Northwest," said Rufus Burton, Sales Manager, Robotics at PRE-TEC. "We have offered flexible automated since 1998 and pride ourselves in our ability to work closely with the client's management and in-house process engineers to optimize performance and productivity."
RIA requires each certified integrator to be recertified every two years. Detailed information on the certification program and the certified robot integrators can be found on a special section of Robotics Online (www.robotics.org). Integrators interested in becoming certified can contact Jeff Burnstein at jburnstein@robotics.org or 734/994-6088.
Founded in 1974, RIA now represents some 300 robot manufacturers, system integrators, component suppliers, end user, consulting firms, research groups, and educational institutions. RIA is best known for its biennial Automate Show & Conference (next event slated for March 23-26, 2015 in Chicago); the ANSI/RIA National Robot Safety Standard and annual National Robot Safety Conference (October 14-16, 2013, Indianapolis, IN), and the annual Robotics Industry Forum (January 22-24, 2014, Orlando). The association also provides quarterly robotics statistics and has a content-rich Robotics Online website attracting hundreds of thousands of visits a year from throughout the world. For more details on RIA, visit www.robotics.org or call 734/994-6088.
"Robotics customers, of course, still need to conduct their own due diligence on the suppliers they select," said Burnstein. "RIA cannot guarantee the work of any integrator or recommend which integrators to choose. We have more than 50 system integrator members and look forward to having more of them go through the certification process in the near future."
Featured Product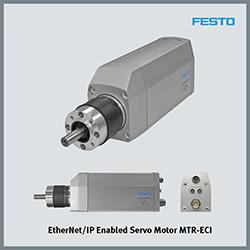 Mechatronic Motion Solutions from Festo is a unique system of components, modules, and software. It integrates all types of pneumatic, servopneumatic and (electro)mechanical automation motion and combines them according to your task. Irrespective of the control system environment you use, Mechatronic Motion Solutions always provides the appropriate interfaces. The fingers can be actively moved and their strength amplified; the operator's hand movements are registered and transmitted to the robotic hand in real time. The objectives are to enhance the strength and endurance of the human hand, to extend humans' scope of action and to secure them an independent lifestyle even at an advanced age.