June 20 (Palo Alto, CA) - - Artec will integrate AICON's ScanReference photogrammetry solution with Artec Eva and Spider 3D scanners. This will allow users to attain higher accuracy in their results which then can be used in such industrial spheres as quality assurance, mass production and metrology.

"We are pleased about the integration of our photogrammetric tools into Artec 3D scanners. Thanks to ScanReference, Artec will be able to address target groups with completely different needs" said Dr. Carl-Thomas Schneider, Managing Director of AICON 3D Systems.
About AICON:
AICON 3D Systems is one of the world's leading providers of optical camera-based 3D measurement systems. The company, founded in 1990, develops and distributes systems for the business areas of inspection and testing including car safety and tube inspection. AICON's reference list boasts renowned automotive manufacturers and suppliers, companies from the aerospace industry, and the areas of shipbuilding and renewable energies. Its latest products for automated test and process control open new worldwide market fields and obtain outstanding growth. More information is available on AICON's website www.aicon3d.com
About Artec Group:
ARTEC GROUP™ is a manufacturer of professional 3D hardware and software. With its offices in Luxembourg, the US and Russia, Artec Group is a market leader in 3D scanning and 3D facial recognition technology which is used by thousands of people all over the world.
For additional information, please visit www.artec3d.com
Featured Product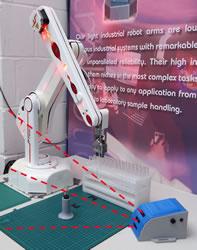 ST Robotics have decades of experience in industrial robots having sold hundreds of robots over the years. The company has 3 main models, R12, R17 and R19 all using a unique simple industrial technology that dramatically reduces costs resulting in the lowest priced industrial robots available. The same uncomplicated technology vastly improves reliability. ST backs this up with a 2 year warranty. Typical applications are routine testing, sample handling and also education. The software is a different paradigm from most robots. It is command based; you type a command and see immediate action. Programming is a building block approach, building confidence as you program in small 'mind-sized bytes'. ST offers free unlimited technical support.