Balluff's new full line of miniature sensors can be used in the smallest of installation spaces, and they can be easily integrated in existing mechatronic assemblies. Balluff mini sensors are available with all operating principles: inductive, photoelectric, magnetic, capacitive or ultrasonic sensors.
Florence, KY July 01, 2013

The increasing miniaturization of assemblies demands the smallest possible yet still high-performance components. Balluff's new line of miniature sensors meet these requirements. With small dimensions and top performance, they offer a great degree of freedom in design and make possible considerably more applications.
Miniature sensors are available from Balluff in all operating principles: as inductive, photoelectric, magnetic, capacitive, and ultrasonic. Available for each sensor technology are compact inductive couplers, space-saving I/O modules and RFID in miniature versions.
The extensive Balluff product line includes mini sensors and compact connection technology which are ideally suited for factory automation - especially for robotics, handling, and production lines. Particularly in robotics, on production lines or in handling applications, low weight is a key requirement for being able to achieve fast cycle times. Another advantage is the reduced space requirement, which increases flexibility in a tightly packed machine compartment. Balluff mini sensors guarantee high precision and reliability.
The shortest inductive M12 sensor in the world - with a length of 12 or 17 mm (can be mounted flush or non-flush) - is included in Balluff's Mini product line. It's so small that it can be integrated in, among other places, extremely compact linear slides, valves, and actuators.
Learn more about Balluff's full line of miniature sensors at: http://www.balluff.us/minis.
Featured Product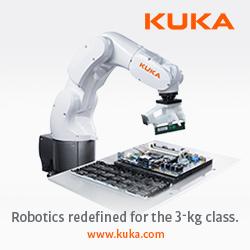 Great advances often start with small steps - in manufacturing cells measuring only 600 × 600 mm. Here, the KR 3 AGILUS is in its element. Particularly in the case of small parts and products which must be produced in a minimum of space. KUKA expertise, concentrated into the smallest of spaces, is setting new standards for the 3-kg class. The lightweight robot masters various tasks with agility, dynamism and maximum precision, leading to high flexibility in production - even when it comes to extremely narrow spaces.