The Conference, which is held every two years, will be in Atlanta for the first time.
(Ann Arbor, Michigan, USA - July 9, 2013) The International Conference for Vision Guided Robotics (ICVGR) will be held on the campus of Georgia Institute of Technology (Georgia Tech) in Atlanta, November 13-15, 2013. The Conference, which is held every two years, will be in Atlanta for the first time, having previously been held in Detroit, Michigan and Nashville, Tennessee.

"We're very excited to hold this prestigious international event in Atlanta because it allows us to reach a wide range of industries in the South, including the growing number of automotive companies and suppliers based in the region," said Jeff Burnstein, President of the Association for Advancing Automation (A3), primary sponsor of the conference.
Georgia Tech's Robotics & Intelligent Machines Center is cosponsoring the conference."Vision guided robots are playing an increasingly significant role in manufacturing and non-manufacturing applications and the technology is rapidly evolving," Burnstein said. "ICVGR will delve into the latest advances in 2D and 3D vision guidance, case studies of successful solutions and emerging application areas for vision guided robots."
Event highlights will include tabletop exhibits from leading vision and robotics vendors; a featured talk from Henrik Christensen, Ph.D., KUKA Chair of Robotics, Director, Robotics and Intelligent Machines at Georgia Tech; and in-depth tutorials on the basics of robotics, the basics of machine vision, and successfully integrating vision guided robotics.
The Association for Advancing Automation is the parent group for Robotic Industries Association (RIA), AIA - Advancing Vision + Imaging, and the Motion Control Association (MCA). Together these groups represent more than 650 leading automation organizations from around the world, including manufacturers, component suppliers, system integrators, end user, research groups, educational institutions, and consulting firms.
AIA, which is the world's leading trade group for vision and imaging companies, will conduct its Certified Vision Professional - Basic Level training and certification program in conjunction with the ICVGR event on November 11 & 12. The CVP-Basic classes and exam will be offered. The CVP training is timed so that attendees can also register for ICVGR.
For more information about ICVGR or the AIA CVP program, contact A3 Headquarters at 734/994-6088.
Featured Product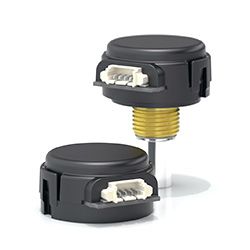 US Digital is pleased to announce the launch of the E4T, their latest series of miniature high performance optical encoders. The E4T series delivers a marked performance increase over similar encoder models and designed to be an enhanced replacement for the E4P encoder series. The E4T utilizes state of the art transmissive optical sensing technology, and incorporates US Digital's own proprietary OptoASIC. Assembly of the E4T is simple and efficient and retains the previous E4P's form factor. Key features of the new E4T include: • Mechanically and Electrically Interchangeable with E4P • Improved Quadrature Signal Strength • 100 kHz Frequency Response • Transmissive Optical Design • Collet Style Push on Optical Disk Design (Patent Pending) • Simple & Efficient Assembly Process As with all of our products the E4T is designed and manufactured in their Vancouver, Washington USA facility and is available for purchase as of December 2014.