Phoenix Aerial Systems successfully demonstrates UAV LiDAR technology by scanning the SD Chargers Football Stadium.
San Clemente, CA August 01, 2013

Phoenix Aerial Systems, a leading manufacturer of unmanned aerial platforms, announced today that they have successfully developed and demonstrated the world's smallest and lightest UAV LiDAR (Light Detection and Ranging) platform available. Weighing less than 10kg, the new LiDAR platform called the "Phoenix AL-2" combines the latest UAV, LiDAR and GNSS technology into a cost effective, accurate and safe micro-mapping solution.
At the core of the Phoenix AL-2 is the Velodyne HDL-32E sensor, which features up to 32 lasers aligned over a 40º Vertical Field of View, and generates 700,000 distance points per second. The HDL-32E rotates 360º up to 20 times per second and provides measurement and intensity information over a range of 1meter to 100 meters, with a typical accuracy of better than +/- 2 cm. The Phoenix AL-2 delivers a real-time, high definition 3D point cloud for speedy mapping of difficult to reach areas without the expense of hiring a commercial plane.
The Phoenix AL-2 will be on display at the Velodyne booth #3326 at the AUVSI show, held August 12 - 15 at the Walter E. Washington Convention Center, Washington DC.
The Phoenix AL-2 is expected to be commercially available by Q4 2013. For more information about Phoenix Aerial LiDAR, please visit http://www.Phoenix-Aerial.com. Click HERE for a direct link to the Proof of Concept video.
Information regarding Velodyne's compact and light-weight HDL-32 LiDAR sensor can be found at http://www.velodynelidar.com.
Featured Product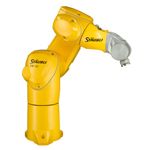 Stäubli offers a complete range of robotic tool changing systems for payloads of 20 kg to 1,530 kg and torsion moments from 30 to 12,500 Nm, designed for use in virtually every industry. The tool changers adapt to customer-specific applications with different modules for media, data, power, etc. The new MPS 130 robotic tool changer is powerful, very robust, and designed for a huge range of applications. It features multiple couplings for air/vacuum connections, and can be equipped with connectors for data and electrical transmission. Very compact dimensions, with a coupled height of only 67 mm, make the MPS 130 the first choice for applications requiring a high number of mating cycles.