PATROL FLEXIBILITY IS KEY FEATURE FOR VENUE WITH CHANGING EXHIBITS
DENVER, Aug. 7, 2013 -- The award winning Vigilus(TM) Mobile Camera Platform security robot from Vigilant Robots will be patrolling the aisles and hallways of much of the 250,000 square foot National Western complex during the third annual Denver County Fair.

"We're thrilled to be invited back" said Pam Gheysar, Vice President of Business Development. She continued "One of the features of our product is the ease with which you can change a patrol, or even modify the entire map, which is exactly what happens when you have an exhibit venue such as National Western; the wall placement doesn't change, but the aisles, area patrolled, and pre-set parameters such as temperature range could change weekly. Our Command Control GUI makes incorporating those changes into a security plan easy for the security manager or robot operator. We had the pleasure of beta-testing here last year and can't wait to have our product patrolling overnight."
In addition to overnight patrols by the security robot, two of the robot's inventors will be on hand to demonstrate the robot's capabilities. Dr. Louise Gunderson, CEO, and Dr. Jim Gunderson, CTO, will also judge competitions in the Geek Pavilion. "We're always happy to encourage interest in robotics; the specializations necessary to create a functioning robot are varied so there is something for everyone in robotics" said CEO Gunderson.
"I want to again thank the Denver County Fair event staff for this opportunity and the security team for their continued support", Pam Gheysar. "To see the latest in security and robotics come to the Denver County Fair!"
Featured Product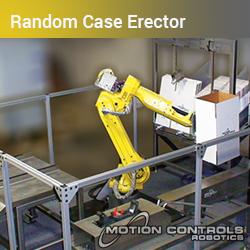 Random Case Erectors are ideal for fulfillment centers and other end-of-line packaging needs. Save money by eliminating changeover downtime. Reduce ergonomic injuries by eliminating repetitive manual tasks. The Random Robotic Case Erector System includes: • FANUC M20iA/20 Robot • Combi gravity case magazine - holds 2 box sizes • Combi bottom flap folder with integrated 3M case sealing head. • Fixed robot base, anchored to the floor • Flexible end of arm tool to pick and erect multiple case sizes to eliminate changeover downtime • System wiring and controls • Color 7.5" touchscreen HMI display for selecting case size • Perimeter guarding with safety interlocks on doors • Programming for Robot, PLC/PMC, HMI and Vision • Complete documentation in electronic format • On-site training and support • Compliance with all applicable robotic safety standards. Alternate safety configuration may be available to allow an operator to changeover a case size in one magazine while the robot continues to work in other magazines. Contact Motion Controls Robotics to learn more about how to implement this system into your current end-of-line operations.