Solid Concepts will display cutting edge unmanned vehicles and manufacturing technologies at the show this year.
Washington D.C. August 12, 2013

August 12, 2013 - Solid Concepts will be exhibiting at the AUVSI Unmanned Systems 2013 exposition from August 12th through August 15th in Washington, D.C.
Solid Concepts is thrilled to attend the show again this year, and is bringing cutting edge never before seen unmanned vehicles. The products Solid Concepts will display are collaborative projects between top engineers and designers utilizing the knowledge and expertise Solid Concepts has to offer from the manufacturing sphere.
Solid Concepts will exhibit their arsenal of technologies in the form of engaging products to inform visitors of the processes Solid Concepts offers to bring concepts from prototype to production. Visit Solid Concepts at booth 2313.
About Solid Concepts
Solid Concepts provides rapid prototyping and custom manufacturing services, with capabilities in PolyJet, Stereolithography (SLA), 3D Color Prints, Selective Laser Sintering (SLS), Direct Metal Laser Sintering (DMLS), Fused Deposition Modeling (FDM), CNC models and patterns, and QuantumCast advanced cast urethanes. Capabilities in tooling and injection molding make Solid Concepts a one-stop source for all of your manufacturing needs.
Featured Product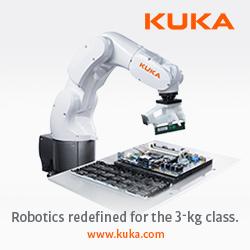 Great advances often start with small steps - in manufacturing cells measuring only 600 × 600 mm. Here, the KR 3 AGILUS is in its element. Particularly in the case of small parts and products which must be produced in a minimum of space. KUKA expertise, concentrated into the smallest of spaces, is setting new standards for the 3-kg class. The lightweight robot masters various tasks with agility, dynamism and maximum precision, leading to high flexibility in production - even when it comes to extremely narrow spaces.