Economical Alternative Provides Upgrades to Receive Sites Using Legacy Equipment
ORLANDO, FL, JULY 17, 2013 - Integrated Microwave Technologies, LLC (IMT), a Business Unit within the Vitec Group's Videocom Division, and a leader in advanced digital microwave systems for MAG (Military, Aerospace & Government) markets, introduces its NCTx Encoder and NCRx Decoder at ALEA 2013, the Airborne Law Enforcement Association's 43rd Annual Conference and Exposition (Booths 227 & 229). The NCTx and NCRx provide users with a simple and cost-effective means of upgrading to MPEG-4 transmission.

The NCTx and NCRx family of Encoders and Decoders were designed to optimize the value of established MPEG-2 infrastructure investments with a cost-effective migration to MPEG-4 and secure BCRYPT AES 128/256 encryption/decryption. Standard BCRYPT AES encryption and decryption will make the legacy systems interoperable with the Department of Justice and other non-proprietary manufacturers' equipment. This flexible option allows users to extend the lifecycle of existing equipment and ensure compatibility with legacy sites, shared by several government agencies. As the NCTx and NCRx offer a gradual transition solution, it does not require disruption of equipment replacements and re-training of personnel.
"We are happy to bring the NCTx and NCRx family of Encoders and Decoders to ALEA as an option for attendees to upgrade their existing MPEG-2 infrastructure while progressively integrating MPEG-4," says IMT Divisional Chief Executive Stephen Shpock. "Now the law enforcement agencies have a choice to upgrade to MPEG-4 at a pace that makes sense to their budgets and day-to-day operational requirements. Just by adding the NCTx and NCRx into their equipment package, law enforcement agencies can migrate to MPEG-4 at a third of the cost of an upgrade equipment replacement."
The NCTx encoder is a compact, low power, HD/SD, video/audio encoder with AES Encryption that can be added to existing digital downlink transmitters. At just 3.7 cubic inches in size, NCTx encoder delivers superior MPEG-4 H.264 SD and HD encoding, enabling agencies to transmit HD content efficiently over the same infrastructure used to transmit standard definition content with more robust modulation and at an increased radius of operation.
The NCTx encoder input accepts composite, SD-SDI or HD-SDI inputs plus embedded audio. The encoder automatically detects the video input format and passes it to a high performance H.264/AVC MP video encoder, where the video is compressed down to an extremely low data rate. The resulting output is an ASI transport stream that is an input on existing digital radios.
The NCRx decoder is a small, low power, HD/SD, video/audio decoder with AES decryption that automatically detects and switches between MPEG-2 and MPEG-4. It features superb MPEG-4 H.264 SD and HD decoding, enabling users to decode HD content efficiently over the same infrastructure used to transmit SD or MPEG-2 content. The NCRx4 outputs ASI, SD-SDI, HD-SDI, and composite output signals.
The NCRx decoder features Video over IP and remote control via the Ethernet port for easy IP streaming to multiple users. A distinct feature of the unit is a simple, one cable integration with existing microwave receivers in Mobile Command Units and at Central Receive sites.
The NCTx and NCRx family of Encoders and Decoders require little setup and the local control panel is easy and user friendly. Simply apply video, power, connect and select a preset. For advanced functions, such as AES encryption keys or unit naming, an easy-to-use administration software package is supplied allowing the user to configure up to eight custom presets. The administrator can feel confident that with the use of access control, the end user cannot corrupt the preset configurations.
Featured Product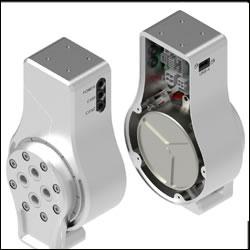 maxon launches the next generation of positioning controllers - the EPOS4. A high performance module with detachable pin headers and two different power ratings. With a connector board, the modules can be combined into a ready-to-install compact solution. Suitable for efficient and dynamic control of brushed and brushless DC motors with Hall sensors and encoders up to 750 W continuous power and 1500 W peak power. The modular concept also provides for a wide variety of expansion options with Ethernet-based interfaces, such as EtherCAT or absolute rotary encoders.