The robotic pallet trucks have increased operational efficiency by improving receipt to putaway time, optimized product flow and reduced labor costs.
PITTSBURGH, PA-Cabela's Incorporated, the World's Foremost Outfitter® of hunting, fishing and outdoor gear, has seen improvement in throughput and saved on operating costs since implementing the use of Seegrid's unmanned robotic pallet trucks at its Wheeling, W.Va., distribution center in July 2010.

"We introduced Seegrid's unmanned units into our current environment alongside our present delivery process, which afforded us the opportunity to forego any future acquisition needs at our location to support a manned unit in our basic stocking and replenishment activities," said Aaron Purman, Cabela's Operations Manager. "Seegrid robots provided Cabela's with the cost savings solution we needed."
Purman added that Cabela's looked to Seegrid robots to reduce manned long haul transports, handle the high variety of product flow and provide the flexibility to change routes easily.
"Robots have streamlined our process flow through centralized route management and improved in our dock-to-stock timing, as we now partner our delivery process with the use of the robots," he said. The robotic pallet trucks have increased operational efficiency by improving receipt to putaway time, optimized product flow and reduced labor costs.
"Cabela's is a loyal Seegrid customer who shares our vision for innovation and driving cost savings by eliminating non-value-added movement within a warehouse," said John Hayes, Vice President of U.S. Sales and Marketing for Seegrid.
Read Cabela's case study http://www.seegrid.com/sites/default/files/pdf/case_studies/cabelas_case_study.pdf
About Seegrid:
Seegrid Corporation (www.seegrid.com) provides simple, affordable, flexible vision-guided automated guided vehicles (AGVs) to the material handling industry. Seegrid robotic industrial trucks, flexible AGVs, are revolutionizing the movement of materials in manufacturing and distribution environments. Seegrid automated pallet trucks and tow tractors optimize workflow processes by increasing productivity and reducing costs, creating economic and operational advantages. Robotic industrial trucks deliver a rapid return on investment, improve facility safety, and reduce equipment and product damage. Fast Company magazine named Seegrid as one of the Top 50 World's Most Innovative Company in 2013 and among the Top 10 World's Most Innovative Robotics Company in 2013. Follow Seegrid Corporation on Twitter at @Seegrid.
Featured Product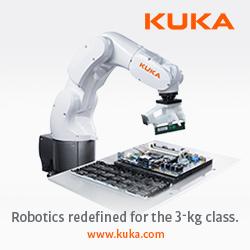 Great advances often start with small steps - in manufacturing cells measuring only 600 × 600 mm. Here, the KR 3 AGILUS is in its element. Particularly in the case of small parts and products which must be produced in a minimum of space. KUKA expertise, concentrated into the smallest of spaces, is setting new standards for the 3-kg class. The lightweight robot masters various tasks with agility, dynamism and maximum precision, leading to high flexibility in production - even when it comes to extremely narrow spaces.