ASK is a lightweight, atmospheric data collection system that will enable forward deployed warfighters to observe and report data in real time.
Reston, VA- September 30, 2013 - QinetiQ North America (QNA) today announced that the U.S. Air Force Special Operations Command's 720th Special Tactics group has selected Tactical Atmospheric Sounding Kit (TASK™) systems and radiosondes for use by special operations weather teams. TASK is a lightweight, atmospheric data collection system that will enable forward deployed warfighters to observe and report data in real time.

"In many special operations missions, you only get one chance for success and atmospheric conditions can make a big difference in go/no go decisions," said Dr. Andrew Rogers, EVP and General Manager, Technology Solutions, QNA. "TASK enables warfighters to collect accurate data quickly and discreetly, anywhere in the world."
Weighing less than five pounds, TASK provides a lightweight solution that can be deployed in less than five minutes.
TASK is a ground-launched sensor that continuously measures and broadcasts wind speed, wind direction, pressure, temperature and humidity while ascending up to altitudes of 45,000 feet on a small weather balloon. Its compact design is more cost effective and requires less helium per sounding compared to other systems. The TASK system is a man portable, self-contained kit that requires no specialized equipment. Watch the product video here.
Operating as the U.S. component of QinetiQ Group plc's Global Products division, QNA's Technology Solutions is a world leader in innovative technology solutions that save lives in defense, security and commercial environments. For more information, visit www.QinetiQ-NA.com, read our blog at techblog.qinetiq-na.com and follow us on Facebook http://www.facebook.com/qinetiqna.
About QinetiQ North America
QinetiQ North America (QNA) is a subsidiary of QinetiQ Group plc, the FTSE250 company listed on the London Stock Exchange (LSE:QQ.L). Operating in North America, QNA delivers world-class technology, responsive services, and innovative solutions for global markets, focusing on U.S. government and commercial customers. Its engineers, scientists and other professionals deliver high quality products and services that leverage detailed mission knowledge and proven, reliable tools and methodologies to meet the rapidly changing demands of national defense, homeland security and information assurance customers. QNA is headquartered in Reston, Virginia. For more information visit www.qinetiq-na.com and join our conversation at www.facebook.com/qinetiqna.
Featured Product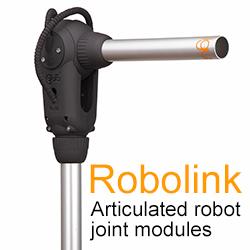 Robolink: Articulated joint modules for robots. igus® now offers a lightweight, maintenance- and corrosion-free range of robot joints for humanoid systems or other automated applications. The carbon-fiber plastic joints can rotate and oscillate freely via four wire ropes. No more expensive milling, cutting or DIY systems. Moving mass is reduced to a minimum. The actuators (engines, pneumatics and hydraulics) and the control module (DP, PC) are kept separate. Contact igus® for more information and free samples.