09-16-2013 - The compact SCHUNK robot couplings VERO-S NSR continue to set standards at high-efficiency, robot-supported pallet change on machine tools: with the module VERO-S NSR maxi 220 the system is becoming even in the heavyweight class a superior favorite for pallet handling. It transfers torques up to 4,000 Nm, and can reliably handle up to 1,000 kg (at 800 x 800 mm). Due to the developed locking system with patented strokes (fast and clamping stroke) from SCHUNK, such large masses can be handled. Locking is done form-fit, and is self-retaining. All the components of the powerhouse are made of hardened, stainless steel. In order to ensure a process-reliable function in challenging environments, it is completely sealed against chips and coolant. Moreover, a standardized cleaning function ensures a chip-free surface contact between pallet and robot coupling. For process monitoring, locking and unlocking conditions are monitored via a position sensor, and the presence of pallet via an inductive proximity switch. Repeat accuracy amounts to 0.02 mm.

Upgrade of the modules up to 350 kg
The innovative family-owned company also completes the VERO-S NSR sizes with smaller and medium-sized sizes: in order to achieve maximum process stability, these standard modules are also equipped with a cleaning function now. Steel inlays at the contact areas make the robot couplings extremely wear-resistant. Despite the upgrade, the module weight remains unchanged. Due to the consequent lightweight design, the modules with optimized interfering contours weigh 400 g (NSR mini 100), 1,600 g (NSR 160). They are suitable for reliable handling of pallets up to 75 kg (at 200 x 200 mm), or up to 350 kg (at 400 x 400 mm). Together in a team with the new heavy-duty module NSR maxi 220, they are covering the complete range from 1 to 1,000 kg.
Featured Product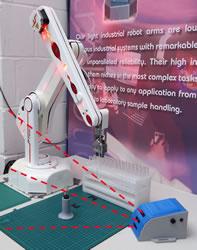 The 6-axis version of the R17HS high speed variant of the R17 robot is now available. As is our policy the 6th axis is an optional bolt-on module. At the same time we have made it even faster and new software eliminates shake and greatly improves repeatability as this video shows. Please see https://www.youtube.com/watch?v=3wG0MeiJ-yE. The video would seem to imply a repeatability of 0.01mm but we are sticking with 0.2mm in the spec. The motor specialist was able to tune the motors from the other side of the pond. My first reaction when we put power on and entered the first commands was to jump back in amazement (and maybe an expletive). Tip speed is now 3m/s; that's 3 times as fast as its nearest competitor yet costs half the price. I love it when a plan comes together.