On October 22nd, 2013, US Digital was awarded their ISO 9001:2008 certificaton after a comprehensive audit by PRI Registrar.
Vancouver, Washington, USA, November 4, 2013 -US Digital, a U.S. manufacturer of optical rotary encoders, announced they have achieved the ISO 9001:2008 certification. Scope of Registration includes design, manufacturing, assembly and distribution of motion control products and accessories. US Digital received the certification from PRI Registrar, which involved a rigorous audit of business processes, manufacturing processes and products.

As part of the ISO certification process, US Digital implemented an ISO compliant Quality Management System to ensure commitment to customer satisfaction and strengthen performance through improving and streamlining processes.
"US Digital's commitment to the ISO 9001:2008 framework demonstrates quality is our priority, from products and processes to customer support and delivery. Our customers can be confident that we will work to exceed their quality expectations and continue to analyze and improve our processes," said Bob Willoughby, President of US Digital.
About US Digital:
US Digital designs and manufactures motion control products used for speed and position control in a wide variety of industrial applications. Motion control building blocks include incremental and absolute optical encoders, magnetic encoders, inclinometers and more. With vertically integrated design and manufacturing capabilities, custom and standard encoders are delivered with best-in-industry lead times. US Digital is located in Vancouver, Washington, USA. www.usdigital.com
Featured Product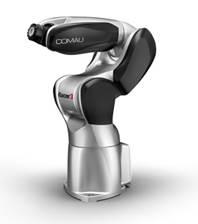 Racer3 is a powerful, high-speed, 6-axis articulated robot featuring a payload of 3kg and a reach of just 630 mm. Built from high-strength aluminum, the newest innovation in Comau robotics is lightweight and can be easily mounted on benches, walls, ceilings or on inclined supports. The third robot within the award-winning Racer family, Racer3 is Comau's response to the growing demand for fast, cost-effective robotic automation within small to medium-sized enterprises and emerging countries. Racer3 is intended for general industry use to increase productivity and reduce overall costs by automating industrial applications. It combines field-proven technology and enhanced dexterity with a keen focus on safety, design and product aesthetics. With a streamlined design and brushed metal exterior, the new powerhouse of a robot combines beauty and speed together with absolute precision and repeatability. Primary applications include assembly, material handling, machine tending, dispensing and pick & place.