Nachi Robotic Systems Inc. has relocated to a new 65,000 square foot facility to meet the growing demand for robotic products and services.
Nachi Robotic Systems Inc (NRS) has moved to a new building located at 42775 W. 9 Mile Rd. Novi, Michigan 48375. In order to meet the growing demand for robotic products, such as the industry's fastest spot welding robots in the SRA Series or the ultra high-speed and compact MZ07 Series robots, Nachi has moved into a much larger facility to meet the needs of our customers. Moving to the new location will consolidate the training and manufacturing facilities under a single roof, providing a central location for all of your robotic needs. The new 65,000 sq. ft. Nachi Robotic Systems facility will provide extensive floor space for setup of robots and integration of robotic systems set for delivery to customers. Nachi will also have more technology available for viewing in the Robotic Technology Demonstration Area, which is used to showcase the latest robotic products and cutting edge technologies to customers. The new engineering and service offices will be located adjacent to the manufacturing floor to assure the continuation of exceptional product support our customers have come to expect from Nachi Robotic Systems Inc.

Nachi Robotic Systems Inc. based in Novi, Michigan was established in 1989 and delivers robotic systems to customers across the North America. Nachi Robotic Systems Inc. is the North American Robot Headquarters for sales, service, engineering, and program management. Nachi Robotic Systems is a full-service robotic supplier with five branch offices throughout North America. For more information contact Todd Babisch at Nachi Robotic Systems Inc., 42775 W. 9 Mile Rd. Novi, MI 48375. Phone: 248.305.6545 FAX: 248.305.6542, or online, visit www.NachiRobotics.com
Featured Product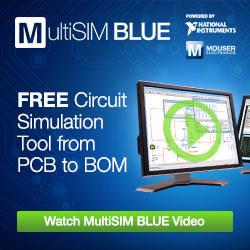 Powered by NI, MultiSIM BLUE Upgrade includes schematic capture, simulation, PCB layout, BOM-to-cart capabilities using only one tool. No more switching between different programs for circuit design. Perform MCU co-simulation. New voltage, current and power probes as well as faster active analysis mode are also available. Plus, it even comes with an expansive database of new components from industry-leading manufacturers. Discover why EDN named MultiSIM BLUE a HOT 100 Product of the Year.