Rounds Out 2013 with 11 New U.S. Investments, 3 IPOs, and 2 M&A Transactions
MENLO PARK, Calif.--Mayfield, a global, early-stage venture capital firm, today announced a $6 million investment in 3D Robotics ("3DR"), the leading open unmanned aerial vehicle ("UAV") platform company founded by Chris Anderson, former editor-in-chief of Wired magazine. The investment is part of 3DR's $30 million Series B round announced in September, and it reflects Mayfield's belief in the maker movement going mainstream - as seen by the rise of connected devices, 3D printing, and the worldwide expansion of the Maker Faire.

"3D Robotics is the poster child for how the Maker Movement is spawning massive new industries, starting from open-source hobbyist community DIY drones, and now evolving into a commercial-grade platform that will disrupt many different markets," said Tim Chang, Mayfield Managing Director. "We're thrilled to be working with Chris and the team and to have a ringside seat at the birth of this exciting new wave."
"Tim Chang's enthusiasm and track record with a new era of hardware companies that act more like software companies (combining advanced code with the extraordinary hardware advancements spinning off the smartphone industry) lined up perfectly with our own vision," said 3DR's Anderson. "He gets that 'atoms are the new bits' like few others, and Mayfield's history in companies that change the world was a great match for our ambitions."
3D Robotics is the 11th U.S. investment in 2013 for Mayfield, with four investments that remain unannounced and six others including BASIS/wrist-based health tracker, MapR/big data infrastructure, NewsCred/content marketing platform, Ouya/Android game console, SwiftStack/software defined storage platform, and TrustRadius/crowdsourced enterprise software reviews. In addition, the Firm made three new investments in India. Over the last 12 months, with the public offerings of energy utility SolarCity (NASDAQ:SCTY), marketing automation company Marketo (NASDAQ:MKTO), and China-based travel search engine Qunar (NASDAQ:QUNR), and the acquisitions of Pulse by LinkedIn and Zenprise by Citrix, Mayfield has now been involved in 112 IPOs and over 150 M&As over its 44-year history.
"2013 has been an exciting year for our industry and for Mayfield," said Navin Chaddha, Mayfield Managing Director. "The new wave of everywhere computing and the confluence of four paradigm shifts in mobile, cloud/SaaS, social, and big data have spurred unprecedented innovation. By rolling up our sleeves and focusing on the needs of early-stage companies, we have been fortunate to partner with bold entrepreneurs who are re-shaping the daily lives of consumers and businesses."
About Mayfield
Mayfield is a global, early-stage venture capital firm with over $3 billion under management. During its 44-year history, the firm has invested in more than 500 companies, of which 112 have gone public and over 150 have merged or been acquired. The Firm is currently deploying Mayfield XIV, a $365 million U.S. fund, and Mayfield India I, a $111 million dedicated India fund, and partners with GSR Ventures to invest in China. Mayfield invests in the mobile, cloud/SaaS, social, and big data areas. Recent successes include Qunar (NASDAQ: QUNR), Marketo (NASDAQ: MKTO), SolarCity (NASDAQ: SCTY), Zenprise (acquired by Citrix), Pulse (acquired by LinkedIn), StorSimple (acquired by Microsoft), QuickOffice (acquired by Google), RedBeacon (acquired by Home Depot), and WiChorus (acquired by Tellabs). For more information, visit www.mayfield.com.
Featured Product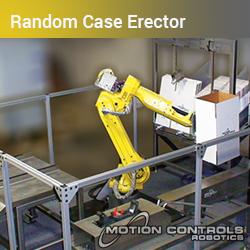 Random Case Erectors are ideal for fulfillment centers and other end-of-line packaging needs. Save money by eliminating changeover downtime. Reduce ergonomic injuries by eliminating repetitive manual tasks. The Random Robotic Case Erector System includes: • FANUC M20iA/20 Robot • Combi gravity case magazine - holds 2 box sizes • Combi bottom flap folder with integrated 3M case sealing head. • Fixed robot base, anchored to the floor • Flexible end of arm tool to pick and erect multiple case sizes to eliminate changeover downtime • System wiring and controls • Color 7.5" touchscreen HMI display for selecting case size • Perimeter guarding with safety interlocks on doors • Programming for Robot, PLC/PMC, HMI and Vision • Complete documentation in electronic format • On-site training and support • Compliance with all applicable robotic safety standards. Alternate safety configuration may be available to allow an operator to changeover a case size in one magazine while the robot continues to work in other magazines. Contact Motion Controls Robotics to learn more about how to implement this system into your current end-of-line operations.