Robots4Austism Therapy Program Voted Most Innovative
New York December 11, 2013

Robots4Autism, a comprehensive autism intervention program that features advanced humanoid robots and developmental curriculum, was voted Most Innovative during the annual Innovation Incubator Program held by the Education Division of the Software & Information Industry Association (SIIA) on December 10. RoboKind, the world leader in social robotics, presented its autism therapy program during the annual SIIA Education Business Forum in New York.
"As a tool that bridges the academic success of students with autism to their developmental progress, Robots4Autism stood out as a program meeting an incredible need," said Karen Billings, vice president for the SIIA Education Division. "Robots4Autism shows tremendous promise for shaping the future of autism education and therapy programs."
Robots4Autism, one of 10 products and services featured in this year's program, socially engages children with autism and teaches critical emotional skills through expert-developed instruction and the human-like Zeno robot. Through its unique CompuCompassion software platform, the social robot interacts with children by reading and reacting to facial expressions and maintaining natural, conversational eye contact.
Offering the world's first affordable social robot for school districts and autism therapy centers, RoboKind forges a new relationship between man and machine.
"It is truly an honor to be recognized by the education industry based on the capabilities our program has for engaging children with autism," said RoboKind CEO Fred Margolin. "By creating a non-threatening and welcoming learning environment, the Robots4Austim robot can play an important role in the social and academic development of students with special needs."
SIIA's Innovation Incubator program began in 2006 and supports entrepreneurs in their development and distribution of innovative learning technologies. Winners and runner-ups are determined by votes from Forum attendees. An Educator's Choice Award was also determined based on the votes of educators and administrators from across the country. To learn more about the SIIA Education Business Forum, visit http://www.siia.net/ebf/2013/.
About RoboKind
RoboKind, the world leader in social robotics, designs and builds a series of robots that enable people to engage with robots on a personal level. Through the Robots4Autism and RoboSteps programs, RoboKind leverages these advanced social robots to supplement autism therapy, special education and STEM instruction. The programs use humanoid robots that feature life-like facial expressions, natural social interaction and comprehensive curriculum to assist educators and therapists in helping students learn and grow. For more information, visit http://www.robokindrobots.com.
Featured Product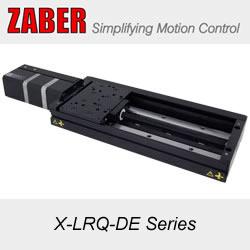 Zaber's new and improved stage (X-BLQ-E) is a closed-loop, belt-driven motorized linear stage with built-in motor encoder and controller. With travel lengths up to 3 m, 10 µm repeatability, and a maximum speed of 2.0 m/s, X-BLQ-E stages are perfect for rapid positioning over large distances. A built-in motor encoder allows closed-loop operation and slip/stall recovery, and an optional indexed knob provides manual control for operation without a computer. Like all Zaber products, the X-BLQ-E Series is designed for easy set-up and operation.