The MPC is a power-off brake module with an output shaft.
The unit mounts directly on to a NEMA C-Face servo or stepper motor and the output can also be coupled to a NEMA C-Face gear reducer.

This brake is designed to decelerate or hold an inertial load when the voltage is turned off. When voltage is applied, the friction disc is released and the brake is free of torque. This power-off brake is best suited for parking brake applications used to hold a load in position, and is ideal for creating brake motor packages for small servo & stepper frame motors.
Key Features:
· Mounts directly to any NEMA 17, 23, 34 or NEMA 42 frame motors
· Includes all necessary mounting hardware
· 12VDC, 24VDC, 90VDC or 120VAC windings available
· 12" lead wire termination
· Low current consumption
· Output shaft can be coupled to any NEMA 17, 23, 34 or NEMA 42 gear reducer
· Optional metric input & output diameters
Click on the link below to view the specification on the Inertia Dynamics family of NEMA Brakes-
http://www.servo2go.com/search.php?search=MPC series&D=PROD
Featured Product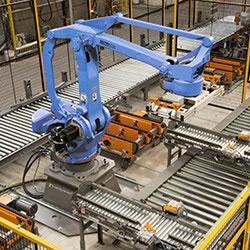 Intelligrated has deep experience implementing robotic solutions that work seamlessly with existing automated equipment and is recognized by the Robotic Industries Association as a certified robot integrator. The company's extensive robotic integration capabilities include solution development, design engineering and project management, complete manufacturing capabilities, installation and commissioning, and lifecycle support services.