A new robot is coming to the market which will follow them around and carry their stuff.
WALL, N.J., Jan. 8, 2014 -- Senior citizens and disabled people find it difficult to carry their items when moving around the house, going out to work, to the store, shopping or simply moving about within the society. To help solve this problem, Five Elements Robotics has created Budgee™. Budgee™ is a friendly robot which follows you around and carries your stuff. Budgee™ is very easy to operate. Simply turn on the transceiver, touch the power button on the top of his head, and he is ready to follow you. Budgee™ is portable, folding easily to fit into the back of a car for transportation to your destination. It weighs less than 20 lbs and can carry up to 50 lbs. Budgee™'s rechargeable battery will last up to 8 hours. Optionally, it can talk to you and be controlled through a smart phone or tablet (using Bluetooth low energy). Budgee™ is very cute and friendly, inspiring a deep bonding between its owner and the robot. You can name your Budgee™ and customize his eye color. Also, he comes with a number of security features to protect your items when out in public places.

Five Elements Robotics is taking pre-orders of Budgee™ on their website www.5erobotics.com for $1399 with a ship date of third quarter 2014. Also, Budgee™ is being offered at $1299 on Kickstarter through the end of January to help launch the project. Go to www.kickstarter.com and search for "Budgee" to support the making of this helpful robot.
Five Elements Robotics™, Revolutionizing the Human Robot Relationship!
Featured Product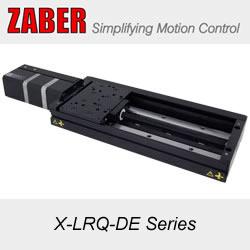 Zaber's new and improved stage (X-BLQ-E) is a closed-loop, belt-driven motorized linear stage with built-in motor encoder and controller. With travel lengths up to 3 m, 10 µm repeatability, and a maximum speed of 2.0 m/s, X-BLQ-E stages are perfect for rapid positioning over large distances. A built-in motor encoder allows closed-loop operation and slip/stall recovery, and an optional indexed knob provides manual control for operation without a computer. Like all Zaber products, the X-BLQ-E Series is designed for easy set-up and operation.