Intelligrated subsidiary to showcase automated decision-making fulfillment software at booth #1101
(Elmsford, N.Y.: Jan. 9, 2013) Knighted® (www.knightedsoftware.com), a leading single-source provider of fulfillment execution systems, will feature its suite of warehouse management, warehouse control, order fulfillment, labor management, and business intelligence software at the 2014 National Retail Federation convention and EXPO, Jan. 12-15 in New York City. Experts from Knighted and parent company Intelligrated will be on hand at booth #1101 to advise retailers on the right solution to maximize fulfillment efficiency and customer satisfaction.

Knighted software intelligence helps retailers build smarter distribution and fulfillment operations that deliver increased productivity and efficiency for fast, accurate fulfillment and increased customer satisfaction.
Knighted software uses points-based tasking algorithms to fully manage inbound and outbound operations, automation flow, yard, labor and inventory to make real-time decisions that balance and prioritize workflow throughout the entire operation. Patent-pending Dynamic Process Control (DPC) enables software adjustments and process optimization through drag-and-drop workflows, eliminating complex software coding.
"Our scalable fulfillment execution systems fit retailers of all sizes, from single-facility operations to multi-site enterprises," says Greg Cronin, executive vice president, Intelligrated. "For growing e-commerce operations and established retailers alike, our solutions deliver the flexibility, speed and accuracy to maximize fulfillment efficiency."
Unlike traditional WMS solutions, which focus on warehouse planning, executing, monitoring and adjusting as a sequence of discrete events, Knighted fulfillment execution system enables faster, real-time responsiveness through adaptive, task-driven workflows and constant analysis of order priority, inventory, labor, process and equipment information.
For sales and marketing information, contact Emily Smith, marketing supervisor, Intelligrated, by phone at 513.881.5239 or by email at emily.smith@intelligrated.com.
For media information, contact Natalie Fioto, public relations, Koroberi, by phone at 919.945.0566 or by email at natalie@koroberi.com.
###
About Knighted
Knighted, an Intelligrated Company, is a leading single-source provider of fulfillment execution systems, with a comprehensive suite of warehouse management (WMS), warehouse control (WCS), order fulfillment, labor management and supply chain business intelligence software. Knighted software solutions deliver optimized execution of fulfillment operations through adaptive, task-driven workflows and real-time, constant analysis of inventory, labor, process and equipment information. Knighted combines unique software and order picking innovations with proven customer support to provide scalable, modular solutions for single-facility operations and multi-site enterprises worldwide.
Headquartered in Elmsford, N.Y., Knighted serves the retail, e-commerce, 3PL, consumer goods and wholesale industries. Knighted is a wholly-owned subsidiary of Intelligrated (www.intelligrated.com), a leading international automated material handling solutions provider.
Featured Product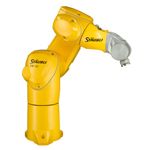 Stäubli offers a complete range of robotic tool changing systems for payloads of 20 kg to 1,530 kg and torsion moments from 30 to 12,500 Nm, designed for use in virtually every industry. The tool changers adapt to customer-specific applications with different modules for media, data, power, etc. The new MPS 130 robotic tool changer is powerful, very robust, and designed for a huge range of applications. It features multiple couplings for air/vacuum connections, and can be equipped with connectors for data and electrical transmission. Very compact dimensions, with a coupled height of only 67 mm, make the MPS 130 the first choice for applications requiring a high number of mating cycles.