Expanding upon a successful four-year initial engagement, QNA will now provide a full suite of BroadWorks® and BroadCloudTM based unified communications services to government agencies.
RESTON, Va. - January 14, 2014 - QinetiQ North America (QNA) today announced it has expanded its strategic relationship with BroadSoft®, the leading provider of software and services that enable mobile, fixed-line and cable service providers to offer unified communications over their Internet Protocol networks. Expanding upon a successful four-year initial engagement, QNA will now provide a full suite of BroadWorks® and BroadCloudTM based unified communications services to government agencies. QNA, BroadSoft's first U.S. government solutions provider, offers open standards-based, scalable, unified communication solutions to its federal, defense and Intelligence Community customers.

For over three decades, QNA has been delivering world-class technology, responsive services and innovative solutions to its customers to increase readiness, improve mission effectiveness, streamline operations and enhance security. This expanded alliance is a natural extension of QNA's current experience implementing and supporting BroadSoft's platform for federal customers. The additional capabilities provided by BroadSoft will enable QNA to offer Unified Communications as a Service (UCaaS) in a hosted model and extend its current offerings to include the full portfolio of BroadSoft's Unified Communications services.
"QNA is committed to proactively developing solutions to our customers' challenges," said John Sutton, EVP and general manager, Mission Solutions, QinetiQ North America. "With this partnership, we are expanding our solution set to rapidly increase the quality and security of our customers' voice and data communications in the cloud."
BroadSoft's core communications platform enables the delivery of a range of enterprise and consumer calling, messaging and collaboration communication services, including private branch exchanges, video calling, text messaging and converged mobile and fixed-line services.
"We welcome the opportunity to expand our relationship with QNA, BroadSoft's first solutions provider for the U.S. government," said Patrick Joggerst, vice president, global sales, BroadSoft. "QNA can now extend its hosted voice solution to full unified communications, enabling them to better meet the needs of government agencies for next-gen services such as video calling and conferencing, instant messaging, presence and web collaboration."
About QinetiQ North America
QinetiQ North America (QNA) is a subsidiary of QinetiQ Group plc, the FTSE250 company listed on the London Stock Exchange (LSE:QQ.L). Operating in North America, QNA delivers world-class technology, responsive services, and innovative solutions for global markets, focusing on U.S. government and commercial customers. Its engineers, scientists and other professionals deliver high quality products and services that leverage detailed mission knowledge and proven, reliable tools and methodologies to meet the rapidly changing demands of national defense, homeland security and information assurance customers. QNA is headquartered in Reston, Virginia. For more information visit www.qinetiq-na.com and join our conversation at www.facebook.com/qinetiqna.
Featured Product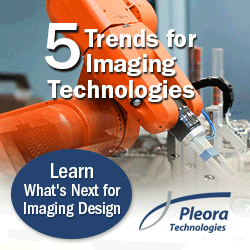 Technology development moves at a dizzying pace and the machine vision industry is no exception. Specific to imaging there is consistent innovation aimed at improving efficiencies, costs, and intelligence. Over the past 12 months, for example, new USB3 Vision™ products have driven the design of higher bandwidth, plug-and-play solutions for imaging applications. What's next for machine vision? This article examines five trends that are expected to influence imaging system design. Sign up at right to receive news and updates on the latest vision technology for medical imaging and you'll receive Five Trends for Imaging Technologies free!