Any FIRST team in the United States can apply for a grant from Intertech Foundation.
St. Paul, Minnesota January 22, 2014

Organizations sponsoring high school FIRST ® Robotics Competition (FRC) ® teams are invited to apply for grants from the Intertech Foundation for help in defraying team costs. Intertech Foundation was created in late 2003 to provide financial support to families with terminally ill children. Intertech Foundation recently expanded its giving scope to include non-profit organizations supporting young people with an interest in computer science and technology.
"Through direct grants to individual teams and organizational support at the regional level, Intertech Foundation supports the FIRST mission of 'transforming our culture by creating a world where science and technology are celebrated and where young people dream of becoming science and technology leaders,'" said Intertech Foundation President Tom Salonek.
To qualify for an Intertech Foundation grant, FIRST team sponsors must be qualified charitable organizations, such as schools and 501(c)(3) entites. Grants will be made to qualified organizations to help defray minor expenses (up to $100) related to FIRST ® Robotics Competition team projects.
FIRST team coaches may apply for the grants between now and March 30, 2014 by completing an Intertech Foundation grant request form and emailing the completed form to IntertechFoundation@intertech.com. Incomplete forms are ineligible for grant consideration. Applicants also are asked to provide a link to the Intertech Foundation webpage (http://www.intertech.com/Philanthropy) from their team or organizational website to promote the grant opportunity to other qualified FIRST teams.
About FIRST ®
FIRST was founded in 1989 by Dean Kamen to inspire young people's interest and participation in science and technology. Based in Manchester, NH, the 501(c)(3) public charity designs accessible, innovative programs that motivate young people to pursue education and career opportunities in science, technology, engineering, and math, while building self-confidence, knowledge, and life skills. Dean Kamen is an inventor, entrepreneur, and tireless advocate for science and technology. His passion and determination to help young people discover the excitement and rewards of science and technology are the cornerstones of FIRST (For Inspiration and Recognition of Science and Technology).
Featured Product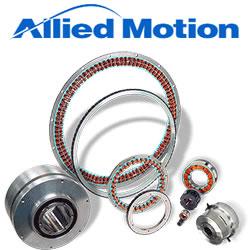 Allied Motion's Megaflux MFH170i series of 170 mm (6.7 in) diameter housed brushless torque motors consists of a high performance brushless DC torque motor, a digital servo drive, and an optical encoder, all integrated into a rugged machined aluminum housing with robust duplex bearings. The MFH0170i series features a 63.5 mm (2.5 in) large-bore through shaft, and is characterized by a very high torque-to-inertia ratio. There are three stack lengths in the series with peak torque ranging from 8.5 up to 16.9 Nm (75 up to 150 lb-in). The standard winding voltage is 48 V. And to ease the hassle of long leadtimes for prototypes, the new MFH170i is now available through our QuickShip program.