Oetiker, Inc., leading Manufacturer and distributor of quality clamping and connection solutions, enlists Siemens Solution Partner, Patti Engineering, to complete conversion project to enhance plant productivity and efficiency
AUBURN HILLS, MI - January 23, 2014 - Patti Engineering, a leader in control system integration, today released details of a control system upgrade project in progress where its team of expert Siemens engineers is providing services to Oetiker's U.S. based manufacturing facility in Marlette, MI. The project consists of upgrading equipment with the latest Siemens Simatic S7 control platform.

Siemens S7 platform offesiemens_11rs technological and economic advantages. Oetiker's investment in migrating equipment controls to the S7 control platform will ultimately improve plant efficiency. Machine downtime will be reduced and the machines functionality, maintainability, and scalability will be greatly improved. "Oetiker is a conscientious company and is proactive in upgrading our equipment to best support our customers" explains Bruce Christensen, Production Manager, Oetiker U.S.
"As a certified Siemens Solution Partner, we often act as a pioneer in converting machines, integrating new technology into older systems." explained Sam Hoff, executive vice president, Patti Engineering. "It's a wise decision to migrate to Siemens S7."
In working with Oetiker, Patti Engineering brings the necessary expertise and preparation required for a labor intensive project. Patti Engineering is a CSIA Certified control system integrator and is the only Siemens Automation Solution Partner in the State of Michigan. Patti Engineering is among a select group of system integrators across the country with highly trained engineers, having completed the rigorous Siemens Global Technical Certification in the Simatic Technology areas of S7 PLCs, Simatic HMIs and Simatic Networking. Its employees bring exceptional expertise to complex conversion projects.
For more information on converting to S7 PLC controllers, please contact Patti Engineering: http://www.pattieng.com/contact-us.html.
About Patti Engineering, Inc.
Patti Engineering, Inc. is a CSIA Certified control systems integration company offering high-caliber engineering and software development services. Patti Engineering's technical expertise in electrical control and information systems provides turnkey control systems integration for design/build, upgrade/retrofit and asset/energy management projects. Industrial automation, production intelligence and shop floor IT solutions services include: project management, electrical engineering, hardware design, hardware procurement, software development, installation, calibration, start-up testing, verification, documentation, training and warranty support. Customer satisfaction and project success earned the company Control Engineering Magazine's 2013 System Integrator of the Year. For more information, visit www.pattieng.com.
Featured Product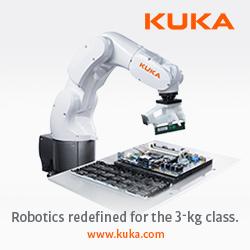 Great advances often start with small steps - in manufacturing cells measuring only 600 × 600 mm. Here, the KR 3 AGILUS is in its element. Particularly in the case of small parts and products which must be produced in a minimum of space. KUKA expertise, concentrated into the smallest of spaces, is setting new standards for the 3-kg class. The lightweight robot masters various tasks with agility, dynamism and maximum precision, leading to high flexibility in production - even when it comes to extremely narrow spaces.