The company also announced that it will attend the Kitchen & Bath Industry Show (KBIS) in Las Vegas, U.S.A, from February 4-6, 2014 (Booth 3067).
SHENYANG, China, Jan. 28, 2014 - SUPOR Kitchen & Bath Co., Ltd ("SUPOR Kitchen & Bath"), a subsidiary of China SUPOR Group, has recently announced the world's largest stainless steel faucet plant, which began production in 2012, entering a stable mass production stage. The company also announced that it will attend the Kitchen & Bath Industry Show (KBIS) in Las Vegas, U.S.A, from February 4-6, 2014 (Booth 3067).

Supor worked with global automation leader ABB, Tsinghua University and other domestic and international authoritative research agencies over nearly five years, reforming processes four times, scrapping nearly 1 million faucets and investing nearly USD 80 million. Finally, Supor achieved major breakthroughs in stainless steel machining, brazing, polishing and other processes and accomplished many "firsts" for the global stainless steel faucet industry. For instance, the machining precision of stainless steel has reached 0.02mm. It is the first time for the sanitary industry to adopt the world's leading, laser welding and solid-melt brazing technologies, which are accurate and efficient, stable and natural. Supor is first in the industry to realize mass industrial production through 100% robot polishing, 20 times more efficient than mature workers. Supor plans to build automatic polishing production lines with more than 1,100 robots to thoroughly realize the transformation of the sanitary industry from traditional labor intensive to technology intensive.
Supor plans to invest USD0.50 billion. It had invested over USD 0.32 billion by the end of 2013, and built 11 automatic production lines with production capacity of 0.7 million stainless steel faucet sets per month. Total annual capacity will be 48 million after project completion, with a total 54 automatic production lines.
In 2013, DT Group, Roca, Laufen, Homewerks, Franke, Delta, Kohler, Wolseley, PJH and other famous enterprises visited Supor's Shenyang factory, and some established strategic partnerships with Supor.
SUPOR KITCHEN & BATH CO.,LTD
The world's largest stainless steel faucet manufacturer and a pioneer in the sanitary ware industry's new material revolution, SUPOR KITCHEN & BATH CO.,LTD is a subsidiary of Supor Group Co., Ltd. Founded in 1994, the group has businesses in the cookware and small home appliances, pharmaceuticals, financial service, property, marina and tourism industries, with annual turnover of USD 2.0 billion. For more information, visit www.supor-ss.com
Featured Product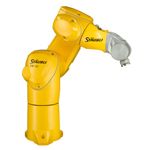 Stäubli offers a complete range of robotic tool changing systems for payloads of 20 kg to 1,530 kg and torsion moments from 30 to 12,500 Nm, designed for use in virtually every industry. The tool changers adapt to customer-specific applications with different modules for media, data, power, etc. The new MPS 130 robotic tool changer is powerful, very robust, and designed for a huge range of applications. It features multiple couplings for air/vacuum connections, and can be equipped with connectors for data and electrical transmission. Very compact dimensions, with a coupled height of only 67 mm, make the MPS 130 the first choice for applications requiring a high number of mating cycles.