"QNA is honored to be part of the NRL team and we look forward to continuing our support to critical naval programs under this new contract"
RESTON, VA- January 29, 2013-QinetiQ North America (QNA) today announced that it was awarded a three-year strategic contract for ocean modeling, remote sensing, and physical oceanography programs to support the Naval Research Laboratory (NRL) at Stennis Space Center, MS.

Ocean circulation patterns, temperatures and depths are constantly changing. Mapping and prediction models are critical to naval strategy, informing fleet and special mission deployment decisions, military planning exercises, satellite calibration, and fleet design for ships, submarines and other maritime vessels.
"QNA is honored to be part of the NRL team and we look forward to continuing our support to critical naval programs under this new contract," said Dave Shrum, executive vice president and general manager, Defense Solutions, QinetiQ North America. "We have over 25 years of expertise in ocean modeling and related support, and we appreciate the opportunity to help NRL achieve mission success."
One of the primary projects included in this contract is to continue developing the Hybrid Coordinate Ocean Model (HYCOM). HYCOM is a new global, high resolution ocean prediction system that dramatically improves situational awareness and the ability to predict future ocean environments.
Another key project is the HYCOM 20-Year Reanalysis Project, which will generate full resolution historical ocean records from 1992 to the present. The goal is to obtain a consistent, virtual ocean over a 15-year period that will be used for mission planning, training and research.
Additional projects include predicting Arctic ice parameters, improving sea surface temperature measurements from space, running high resolution models for expeditionary warfare exercises and satellite calibration. The contract is valued at $12 million over three years.
About QinetiQ North America
QinetiQ North America (QNA) is a subsidiary of QinetiQ Group plc, the FTSE250 company listed on the London Stock Exchange (LSE:QQ.L). Operating in North America, QNA delivers world-class technology, responsive services, and innovative solutions for global markets, focusing on U.S. government and commercial customers. Its engineers, scientists and other professionals deliver high quality products and services that leverage detailed mission knowledge and proven, reliable tools and methodologies to meet the rapidly changing demands of national defense, homeland security and information assurance customers. QNA is headquartered in Reston, Virginia. For more information visit www.qinetiq-na.com and join our conversation at www.facebook.com/qinetiqna.
Featured Product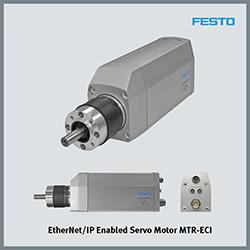 Mechatronic Motion Solutions from Festo is a unique system of components, modules, and software. It integrates all types of pneumatic, servopneumatic and (electro)mechanical automation motion and combines them according to your task. Irrespective of the control system environment you use, Mechatronic Motion Solutions always provides the appropriate interfaces. The fingers can be actively moved and their strength amplified; the operator's hand movements are registered and transmitted to the robotic hand in real time. The objectives are to enhance the strength and endurance of the human hand, to extend humans' scope of action and to secure them an independent lifestyle even at an advanced age.