Markets served by these distributors include packaging, robotics/palletizing, oil and gas, mining, solar, material handling, food processing, dairy and farm, semi-conductor, timber, land transportation, automotive, and printing/converting.
Hauppauge, NY January 29, 2014

Festo has named three new western states distributors. These include Denver-based Consolidated Parts, Inc. for Colorado product distribution, Salt Lake City-based Pro Automation, Inc. for Utah, and Custom Fluid Power, located in Nampa, Idaho, for distribution of Festo products in parts of Idaho, Oregon, and the state of Montana.
"The best distributors in automation today have advanced parts stocking and distribution systems in place as well as the engineering expertise to help customers quickly identify optimum solutions," said Bill Oliver, Head of Festo US Distribution. "These distributors invest in training their personnel and instilling a culture of service. We know that Festo products are in exemplary hands with Consolidated Parts, Pro Automation, and Custom Fluid Power."
Consolidated Products has served Colorado machinery manufacturers and automation end users with parts and engineering services for more than 65 years in such fields as packaging, robotics/palletizing, oil and gas, mining, solar, and material handling. The company also serves automation system integrators. Consolidated Products is an Automation Solutions Provider member of the Association for High Technology Distribution.
Pro Automation is a full-line stocking distributor of industrial automation components. With more than 14 years of experience in the Utah market, Pro Automation assists customers with sales and value added products and services. The company specializes in motion control and assembly solutions. Pro Automation serves such markets as material handling, automotive, printing/converting, furniture, aerospace, construction, life science, energy, recreation, transportation, and agriculture.
Consolidated Fluid Power is a full-line stocking distributor of fluid power components and accessories with more than 20 years experience. The company will distribute Festo products in Idaho, except for the counties of Bonner and Boundary, the state of Montana, and in the Oregon counties of Baker, Grant, Harney, Malheur, Union, and Wallowa. Consolidated Fluid Power assists customers with sales, design, and value added products and services in such markets as food processing, dairy and farm equipment, packaging, semi-conductor, timber, mining, and land transportation.
For more information on Festo, call 800-993-3786 and visit http://www.festo.com/us.
Featured Product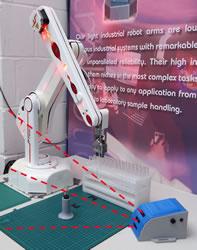 The 6-axis version of the R17HS high speed variant of the R17 robot is now available. As is our policy the 6th axis is an optional bolt-on module. At the same time we have made it even faster and new software eliminates shake and greatly improves repeatability as this video shows. Please see https://www.youtube.com/watch?v=3wG0MeiJ-yE. The video would seem to imply a repeatability of 0.01mm but we are sticking with 0.2mm in the spec. The motor specialist was able to tune the motors from the other side of the pond. My first reaction when we put power on and entered the first commands was to jump back in amazement (and maybe an expletive). Tip speed is now 3m/s; that's 3 times as fast as its nearest competitor yet costs half the price. I love it when a plan comes together.