The US Patent & Trademark Office recently awarded ASI with Patent No. US 8,626,565 B2 titled "Vehicle Dispatching Method and System."
Petersboro, UT January 31, 2014

The US Patent & Trademark Office (USPTO) awarded Autonomous Solutions, Inc. (ASI) with a patent entitled "Vehicle Dispatching Method and System." The patent (No. US 8,626,565 B2) deals with optimizing how vehicles are routed in situations where there are multiple origins, destinations, and routes available.
"Most dispatching algorithms are based on linear programming," explained Tom Petroff who leads ASI's Perception Team, a group of researchers responsible for much of ASI's research and development efforts across several industries. "The dispatching is done up front, and it often doesn't handle changes in conditions very well, such as a vehicle going out of service or bad weather." The new dispatching system combines linear programming with reinforcement learning, a methodology that calculates outcomes to optimize a cost function-either minimizing or maximizing. "The algorithm leads to more efficient routes and better cost savings for dispatching scenarios."
While the algorithm is useful for autonomous vehicles, Petroff reminds that this technology is useful for a number of industries. "In the dispatch application the whole idea is to minimize the cost to perform an application or to maximize the amount of haulage or number of trips that can be done in a given time. These benefits extend beyond autonomous vehicles to dispatching situations of all types: transportation, fleets (airplanes, taxis, etc.), mining, farming, or whatever industry it may be."
The Vehicle Dispatching Method and System patent is the fifteenth patent awarded to ASI by the USPTO.
Featured Product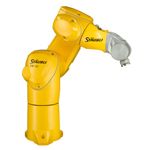 TX2 series of robots: the next generation of fast and precise 6-axis robots. This new robot range is redefining performance with the optimum balance of speed, rigidity, size and envelope. Those pioneer robots can be used in all areas, including sensitive and restrictive environments thanks to their unique features. Known worldwide for the quality of our design and innovation for more than a century, the Stäubli Group has brought its renowned engineering expertise and technological ingenuity to the forefront of robotics. Since 1982, we have built a highly regarded robotics business, and more significantly, transformed the way thousands of manufacturing operations perform. Today Stäubli Robotics is a leading player in robotics around the world, consistently delivering engineering as effective and reliable as our service and support.