Diversity-focused panel discussion to kick off three-day conference on key issues facing manufacturers today
Toronto, Ontario - January 31, 2014 - Recruiting qualified employees in the face of a declining workforce is a top problem facing today's manufacturers. And solving it will require taking concrete steps to narrow the gender gap, say industry experts as they prepare for FABTECH Canada, the only event of its kind in this country, which takes place March 18-20, 2014, at the newly-renovated Toronto Congress Centre.

"Manufacturing today is more about brains than brawn," said Allison Grealis, vice president, of membership and association services at the Precision Metalforming Association (PMA), and director of Women in Manufacturing (WiM), a 400-member-strong organization established in 2011 to support women in the manufacturing sector. Grealis will be moderating the FABTECH Canada opening day panel discussion, Diversity in the Workplace: Embracing Women in Manufacturing.
"If we're going to fix the workforce shortage, we can't just focus on half of the population, "said Grealis. "We have to look at women as a viable solution to fill the gap and commit our industry to doing a better job of attracting, retaining and advancing women in manufacturing."
The opening day discussion on diversity, sponsored by WiM, PMA and Metalforming magazine, will kick off this year's FABTECH show on Tuesday, March 18 at 8:30 a.m. with a keynote address by popular TV personality, metal fabricator and race car driver Jessi Combs. Combs will share her own inspirational story about her career in the manufacturing sector. The full opening session will examine the current state of women in manufacturing. In addition to proposing ways to attract women to manufacturing careers, the panel - which includes Natalie Panek, a mission systems and operations engineer with MDA Space Missions and Karin Lindner, the founder of Karico Performance Solutions - will also highlight the benefits of a diverse workplace.
"What we're seeing is that women make up 50 percent of the general workforce, but only 30 percent of the manufacturing population," said Grealis. "Our biggest challenge is selling the story of today's high-tech manufacturing environment. Too many women - of all ages and backgrounds - don't see manufacturing as a professional path because they aren't aware of the many opportunities in today's modern manufacturing facilities."
In Canada, women accounted for approximately 475,000 of 1,734,000 manufacturing jobs in 2013.
Immediately following the panel discussion, FABTECH will offer a comprehensive educational program featuring targeted technical, operational, economic and managerial sessions designed to exchange best practices and explore latest advancements. Sessions are grouped into the following categories: Laser/Cutting, Management, Forming and Fabricating, Finishing, Welding, Stamping and Robotics. Highlights include a look at the skills gap and what manufactures are doing about it, the latest applications for lasers in industry, more on manufacturing workforce solutions, and an in-depth look at welding and finishing fundamentals.
FABTECH Canada is hosted by SME, The Fabricators & Manufacturers Association, Int'l (FMA), The American Welding Society (AWS), PMA, and Chemical Coaters Association International (CCAI). Significantly expanded in size and scope, FABTECH Canada 2014 features a larger conference and welding area, and brand new finishing and stamping pavilions, in addition to a wide range of exhibiting companies.
For more information or to register for FABTECH Canada 2014, please visit www.fabtechcanada.com or call 1-888-322-7333 ext. 4447.
Featured Product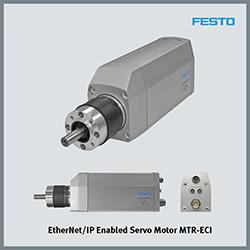 Mechatronic Motion Solutions from Festo is a unique system of components, modules, and software. It integrates all types of pneumatic, servopneumatic and (electro)mechanical automation motion and combines them according to your task. Irrespective of the control system environment you use, Mechatronic Motion Solutions always provides the appropriate interfaces. The fingers can be actively moved and their strength amplified; the operator's hand movements are registered and transmitted to the robotic hand in real time. The objectives are to enhance the strength and endurance of the human hand, to extend humans' scope of action and to secure them an independent lifestyle even at an advanced age.