The Enterprise Data Repository Management (EDRM) System and Building Information Modeling (BIM) Server Support task orders have a combined value of $15 million over a period of 6 years.
Reston, Va. - February 11, 2014 - QinetiQ North America (QNA) announced today it was awarded two task orders under the U.S. General Services Administration's (GSA) Information Technology and Development Services (ITDS) Blanket Purchase Agreement (BPA). The Enterprise Data Repository Management (EDRM) System and Building Information Modeling (BIM) Server Support task orders have a combined value of $15 million over a period of 6 years.

The Public Buildings-Information Technology Service (PB-ITS) program provides technology solution services for the GSA Public Buildings Service (PBS). The Office of the PB-ITS' mission is to strategically acquire information and technology designed to improve the quality, timeliness and cost effectiveness of PBS service delivery to its customers. The PB-ITS program manages the design, development, implementation and maintenance of all national PBS software applications, as well as the relationships between the PB-ITS' office and PBS Central Office business lines, regional customers and stakeholders.
PBS relies on the data and reports maintained in the EDRM system and it is essential that these services are managed by experts in data management, data and system architecture and quality assurance. Under the EDRM task order, QNA is charged with advancing PB-ITS' enterprise architecture and it's enterprise-wide view of public building data that is critical to understanding the factors affecting cost and energy usage across the PBS inventory. This effort requires the integration and reconciliation of data from real estate acquisition, real property asset management, design and construction, client solutions and budget and financial management.
Under the BIM task order, QNA has been awarded the continued development and support services for their three dimensional and four-dimensional BIM system. The BIM Server will serve as the central repository of BIM information for all GSA users. Specific services are expected to include: program and project management support, release/enhancement development and implementation, operational system maintenance and application support, security and direct support to the Enterprise Service Center to support the backup/restore, user management or system reboot services to the production server.
"We are excited to support GSA through these critical task orders on the GSA-ITDS BPA," said John Sutton, executive vice president and general manager of QNA's Mission Solutions business unit. "This expanded partnership gives us an opportunity to apply our expertise in software development and enterprise IT to the entire GSA organization."
For more than 14 years and across more than 25 projects, QNA has been providing comprehensive IT support services to PBS. Services have included: project oversight, enterprise solution development, and application maintenance in support of GSA's business and strategic IT objectives.
About QinetiQ North America
QinetiQ North America (QNA) is a subsidiary of QinetiQ Group plc, the FTSE250 company listed on the London Stock Exchange (LSE:QQ.L). Operating in North America, QNA delivers world-class technology, responsive services, and innovative solutions for global markets, focusing on U.S. government and commercial customers. Its engineers, scientists and other professionals deliver high quality products and services that leverage detailed mission knowledge and proven, reliable tools and methodologies to meet the rapidly changing demands of national defense, homeland security and information assurance customers. QNA is headquartered in Reston, Virginia. For more information visit www.qinetiq-na.com and join our conversation at www.facebook.com/qinetiqna.
Featured Product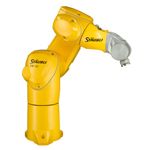 TX2 series of robots: the next generation of fast and precise 6-axis robots. This new robot range is redefining performance with the optimum balance of speed, rigidity, size and envelope. Those pioneer robots can be used in all areas, including sensitive and restrictive environments thanks to their unique features. Known worldwide for the quality of our design and innovation for more than a century, the Stäubli Group has brought its renowned engineering expertise and technological ingenuity to the forefront of robotics. Since 1982, we have built a highly regarded robotics business, and more significantly, transformed the way thousands of manufacturing operations perform. Today Stäubli Robotics is a leading player in robotics around the world, consistently delivering engineering as effective and reliable as our service and support.