February 19-21, 2013--Von Braun Center, Booth 1531, Huntsville, AL
RESTON, Va.- QinetiQ North America (QNA) will display its latest fleet management, survivability, unmanned systems, and meteorological sensors at the Association of the United States Army's (AUSA) Institute of Land Warfare (ILW) Winter Symposium and Exposition in Huntsville, AL.

What: AUSA Winter Symposium and Exposition
When: February 19-21, 2013
Where: Von Braun Center, Booth 1531, Huntsville, AL
Featured displays will include integrated warrior systems, logistics and lifecycle management solutions, gunfire detection solutions, armor protection systems, military robots, tactical controllers and a suite of sensors to support the soldier in any environment.
QNA technical experts will be onsite to conduct demos of the company's combat proven TALON® and Dragon Runner™ robots; Integrated Warrior System; blast mitigating seat technology BlastRide; and the newly launched Single Integrated Material Management System (SIMMS™), a logistics information system and operational maintenance management software solution for asset management.
About QinetiQ North America
QinetiQ North America (QNA) is a subsidiary of QinetiQ Group plc, the FTSE250 company listed on the London Stock Exchange (LSE:QQ.L). Operating in North America, QNA delivers world-class technology, responsive services, and innovative solutions for global markets, focusing on U.S. government and commercial customers. Its engineers, scientists and other professionals deliver high quality products and services that leverage detailed mission knowledge and proven, reliable tools and methodologies to meet the rapidly changing demands of national defense, homeland security and information assurance customers. QNA is headquartered in Reston, Virginia. For more information visit www.qinetiq-na.com and join our conversation at www.facebook.com/qinetiqna.
Featured Product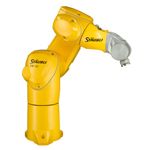 TX2 series of robots: the next generation of fast and precise 6-axis robots. This new robot range is redefining performance with the optimum balance of speed, rigidity, size and envelope. Those pioneer robots can be used in all areas, including sensitive and restrictive environments thanks to their unique features. Known worldwide for the quality of our design and innovation for more than a century, the Stäubli Group has brought its renowned engineering expertise and technological ingenuity to the forefront of robotics. Since 1982, we have built a highly regarded robotics business, and more significantly, transformed the way thousands of manufacturing operations perform. Today Stäubli Robotics is a leading player in robotics around the world, consistently delivering engineering as effective and reliable as our service and support.