Teams of innovative STEM entrepreneurs from around the world compete for $45,000 in prizes
HOUSTON (Feb. 21, 2014) - Officials with the Conrad Foundation today announced the names of 20 high school and middle school teams from the U.S., China, India, Israel and Sri Lanka to compete in the final round of the 2013-2014 Spirit of Innovation Challenge. Selected from 133 innovative semifinalist teams from around the world, these young entrepreneurs will attend the 2014 Innovation Summit and compete for $45,000 in prizes.

Presented by Lockheed Martin, the annual business and technical plan competition challenges teams of students ages 13-18 to combine innovation and entrepreneurship, along with STEM (science, technology, engineering and math), to create commercially-viable products to benefit humanity and support global sustainability.
"We believe young people have an amazing capacity to imagine, design and create products and services to benefit humanity," said Nancy Conrad, founder and chairman of the Conrad Foundation. "The Spirit of Innovation Challenge provides the tools and the resources students and educators need to learn how to collaborate, investigate and make their ideas a reality, while simultaneously bringing valuable context to lessens in the classroom."
Finalist teams will present their product concepts April 7-8 before a panel of industry experts, leading entrepreneurs, government officials and world-renowned scientists at NASA Johnson Space Center in Houston. Products will be evaluated for technical content and marketplace viability. Presentations will be available for public viewing via live stream at www.conradawards.org.
The finalist teams in each category include:
Aerospace & Aviation
*Flying Unicorns - Periflow;, North Carolina School of Science and Mathematics; Durham, NC
*Fuel Gage for Hydrogen Fuel Cell; Shapira High School and Holy Child Auxilium School; Ha'ari, Israel and New Delhi, India
*HAV IDEAS - Smart Bin; Detroit Country Day School and Plymouth High School; Detroit and Canton Township, MI
*nCssM - AquaCapsule; North Carolina School of Science and Mathematics; Durham, NC
*The Aerodynamic Duo - HEPA UV Filter; North Carolina School of Science and Mathematics; Durham, NC
Cybertechnology & Security
*Bionic Technologies - DigiSense; Gnanam Academy and Stanford University Online High School; Plano and Murphy, Texas
*Blind Sensor Navigation; Northville High School; Northville Township, MI
*PuzzleBot; North Carolina School of Science and Mathematics; Durham, NC
*Quantum Spoker - Spoker 900; St. Thomas' College, Mount Lavinia, Sri Lanka
*TXT U L8R - AutoSense; Thomas Jefferson High School for Science and Technology; Alexandria, VA
Energy & Environment
*GreenBarriers - HydroBucket; Cupertino High School; Cupertino, CA
*NCSSM CM - Water Wicker; North Carolina School of Science and Mathematics; Durham, NC
*Tube-tastic Trio - Tube-tastic; Watchung Hills Regional High School; Warren, NJ
*WaSOR - SAPbag; East Chapel Hill High School; Chapel Hill, NC
*XC - Walking Watts; Hatboro-Horsham High School, A.C. Reynolds High School and Elizabeth High School; Horseham, PA, Asheville, NC and Elizabeth, NJ
Health & Nutrition
*FreshSpire; North Carolina School of Science and Mathematics; Durham, NC
*IPAT- VIBe; Shanghai American School; Shanghai, China
*Nutripersonal; William G. Enloe High School; Raleigh, NC
*Sensitive Solutions - OmniSENSE; Thomas Jefferson High School for Science and Technology; Alexandria, VA
*Tremor X; The Columbus Academy; Columbus, Ohio
The winning team in each category will be recognized as Pete Conrad Scholars in honor of Apollo 12 astronaut, Charles "Pete" Conrad, and his three-decade pursuit of innovation and entrepreneurship. These teams also receive a Next Step Grant of $10,000 to continue product development, as well as a chance to receive a $5,000 grant from the Intellectual Property Owners Education Foundation for patent applications.
The 2013-2014 Spirit of Innovation Challenge is made possible by Lockheed Martin, as well as PepsiCo, Battelle, Air Liquide, MondelÄ"z International and other supporting sponsors. For more information about the Spirit of Innovation Challenge or how to contribute to the Conrad Foundation, visit www.conradawards.org.
Featured Product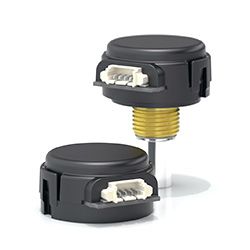 US Digital is pleased to announce the launch of the E4T, their latest series of miniature high performance optical encoders. The E4T series delivers a marked performance increase over similar encoder models and designed to be an enhanced replacement for the E4P encoder series. The E4T utilizes state of the art transmissive optical sensing technology, and incorporates US Digital's own proprietary OptoASIC. Assembly of the E4T is simple and efficient and retains the previous E4P's form factor. Key features of the new E4T include: • Mechanically and Electrically Interchangeable with E4P • Improved Quadrature Signal Strength • 100 kHz Frequency Response • Transmissive Optical Design • Collet Style Push on Optical Disk Design (Patent Pending) • Simple & Efficient Assembly Process As with all of our products the E4T is designed and manufactured in their Vancouver, Washington USA facility and is available for purchase as of December 2014.