Bryan has more than 25 years of high tech product and software development expertise
Louisville, CO - February 26, 2104 - Boulder Imaging (BI) is pleased to announce that Bryan Burke has recently joined the BI team as Vice President of Engineering, overseeing product design, deployment and development. Bryan has more than 25 years of high tech product and software development expertise in the medical, automation and communications industries.

"We are thrilled to have Bryan joining the BI leadership team and look forward to his contributions," said Don Mills, BI President and Chief Operating Officer. "His extensive cross functional technical leadership background will be pivotal in guiding BI teams in systems integration, product realization, quality and regulatory compliance."
Bryan can be reached at 720-545-9992 or via email at BBurke@boulderimaging.com.
About Boulder Imaging
Boulder Imaging provides vision inspection solutions for precision applications and has been successfully providing clients with custom R&D-intensive solutions for challenging inspection requirements since 1995. Our proprietary technology has provided fast, reliable, flexible, and accurate machine vision and high-performance digital video recording systems for hundreds of customers, including Fortune 500 companies, military and government organizations. For the past 18 years, our solutions have enabled customers to optimize product quality, drive down manufacturing costs, and measurably improve efficiency. Visit us at www.BoulderImaging.com.
Featured Product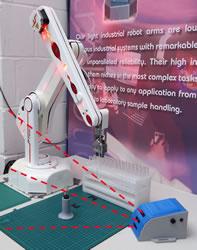 ST Robotics have decades of experience in industrial robots having sold hundreds of robots over the years. The company has 3 main models, R12, R17 and R19 all using a unique simple industrial technology that dramatically reduces costs resulting in the lowest priced industrial robots available. The same uncomplicated technology vastly improves reliability. ST backs this up with a 2 year warranty. Typical applications are routine testing, sample handling and also education. The software is a different paradigm from most robots. It is command based; you type a command and see immediate action. Programming is a building block approach, building confidence as you program in small 'mind-sized bytes'. ST offers free unlimited technical support.