Brooklyn-based 3D printer manufacturer Solidoodle heads to Washington, D.C., to share 3D printing at America's largest S.T.E.M. education event.
Brooklyn, NY February 28, 2014

3D-printer manufacturer Solidoodle is proud to join as a partner for the 3rd annual USA Science & Engineering Festival, to be held April 24-27, 2014 in Washington, D.C. The Brooklyn, NY-based company will bring its desktop 3D printers to showcase some of the latest available technology accessible for S.T.E.M. (Science, Technology, Education and Mathematics) education, including live 3D printing demonstrations for visitors.
"3D printers are great tools for S.T.E.M. education, and we're happy to see that many of our customers are schools and teachers," says Solidoodle CEO Sam Cervantes. "Because we focus on offering the best value for the consumer market with 3D printers ranging from $499 to $999, our products provide some of the best options for educators interested in bringing our technology into the classroom. We've been actively involved locally in helping develop educational programs at schools and this is an excellent opportunity to reach out at the national level."
The Expo is perfect for teens, children and their families, and anyone with a curious mind who is looking for a weekend of fun and discovery. Meet science celebrities like Mike Rowe, host of the Discovery Channel's Dirty Job series, Bill Nye the Science Guy, David Pogue, host of NOVA ScienceNow series on PBS, and Grammy Award-winning alternative music band "They Might Be Giants!" For more information on the USA Science & Engineering Festival, visit http://www.usasciencefestival.org.
About the USA Science & Engineering Festival
The USA Science & Engineering Festival is a national grassroots effort to advance STEM education and inspire the next generation of scientists and engineers. Exhibitors, performers, speakers, partners, sponsors and advisors are a who-is-who of science and engineering in the United States: from major academic centers and leading research institutes and government agencies to cutting-edge high tech companies, museums and community organizations.
About Solidoodle
Solidoodle was founded in 2011 by aerospace engineer and 3D printing industry-veteran Sam Cervantes with the mission of developing quality 3D printers that are affordable and easy to use. To date, the company has shipped close to 10,000 printers to satisfied customers in over 60 countries. For more information about Solidoodle, visit http://www.solidoodle.com.
Featured Product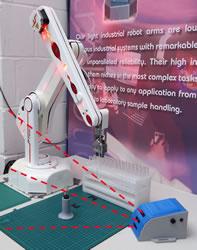 ST Robotics have decades of experience in industrial robots having sold hundreds of robots over the years. The company has 3 main models, R12, R17 and R19 all using a unique simple industrial technology that dramatically reduces costs resulting in the lowest priced industrial robots available. The same uncomplicated technology vastly improves reliability. ST backs this up with a 2 year warranty. Typical applications are routine testing, sample handling and also education. The software is a different paradigm from most robots. It is command based; you type a command and see immediate action. Programming is a building block approach, building confidence as you program in small 'mind-sized bytes'. ST offers free unlimited technical support.