JLS Automation Applauded in Local Periodicals for Recent Food Products Patent and Cutting Edge Technology
York, PA March 04, 2014

JLS Automation, upon the receipt of its first official patent, has effectively forged the way for a new robotic tooling device which handles pliant comestibles, or food products that need to be shaped. Alongside this industry innovation, which has the potential to revolutionize food packaging efficiency and safety, has come much praise from regional news sources. Recently featured in the Central Penn Business Journal's annual Technology Report and the York Daily Record's business page for its noted patent and foresight with packaging technology, JLS has certainly opened eyes in its region and beyond.
"This is a milestone for us and it really exemplifies our inventiveness and reach," said JLS President Craig Souser, "we're always looking for ways to improve manufacturing efficiency, output and safety." Souser added, "with hopefully many other patents on the way in the tooling arena, this is a step in the right direction for the future of JLS."
Central to JLS' patented food shaping system is its ability to take the human element out of food packaging. Highlighting this trend in robotics, the York Daily Record pointed to JLS' newfound approach in packaging tortillas without a single human hand touching them. This idea, which greatly eliminates the costs associated with human workers, was echoed in the Central Penn Business Journal, citing its attractiveness with foreign manufacturing plants seeking to reduce manual labor.
Since 1954, JLS Automation has pioneered manufacturing, from power transmission equipment early on to primary and secondary packaging systems more recently. JLS offers several trusted Packaging, Tray Loading and Palletizing systems like its Talon, Heron, Osprey and Pelican lines, all "designed for agility." As JLS has transformed in scope over the years, its dedication to integrity, trust and humility has not.
Featured Product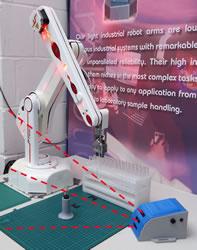 ST Robotics have decades of experience in industrial robots having sold hundreds of robots over the years. The company has 3 main models, R12, R17 and R19 all using a unique simple industrial technology that dramatically reduces costs resulting in the lowest priced industrial robots available. The same uncomplicated technology vastly improves reliability. ST backs this up with a 2 year warranty. Typical applications are routine testing, sample handling and also education. The software is a different paradigm from most robots. It is command based; you type a command and see immediate action. Programming is a building block approach, building confidence as you program in small 'mind-sized bytes'. ST offers free unlimited technical support.