Robotmaster to sponsor and exhibit at the 2014 Aerospace Conference hosted by the Center for Aerospace Technology (CTA) in Montreal
Robotmaster is proud to sponsor and participate at the 6th annual Aerospace Conference, themed "Innovation & Perspective" at the Center for Aerospace Technology CTA (Campus Cegep Édouard-Montpetit), on March 11th. This sponsorship is part of a greater collaboration agreement between the CTA and Robotmaster for advancing the cause of robotics for aerospace manufacturing applications.

Greater Montreal is a major world aerospace centre. A world-class industry hub featuring the likes of Bombardier, Bell Helicopter Textron, CAE, Pratt & Whitney and more than 200 specialized companies. This event gathers companies, numerous industry experts and well-known speakers in the aerospace industry.
This occasion will be used to unveil new Robotmaster tools that have been designed specifically for manufacturing of aerospace parts using robots. These new tools include:
• Flexible programming of trimming, drilling and fastening of aircraft skins using robots;
• A new and innovative feature for easy programming of Universal Holding Fixtures (UHF);
• Enhancements to features for manufacturing aircraft engines (de-burring, sanding, grinding, linishing and thermal projection);
• New programming methods enabling enhanced process control for inspection and Non-Destructive-Testing (NDT).
Do not hesitate to stop by at our booth where our experts will be glad to discuss your application and answer any questions.
About Robotmaster
Robotmaster seamlessly integrates CAD/CAM based robot programming, simulation and program generation. Common robot programming challenges typically require intricate user intervention or costly manual editing for producing error free programs. Robotmaster provides innovative new tools to effortlessly optimize robot programs producing error-free robot paths avoiding singularity zones and collisions, working around joint and reach limitations and optimizing tool orientations along the entire trajectory. Robotmaster is ideally suited to program robots for such tasks as trimming, 3D machining, de-burring, polishing, welding, dispensing, grinding and painting, and supports most industrial robot models.
About Jabez Technologies
Robotmaster is a product of Jabez Technologies, specialized in dedicated software solutions for industrial automation, manufacturing and robotics since 1996. For more information please visit our web page www.robotmaster.com or email us at info@robotmaster.com.
Featured Product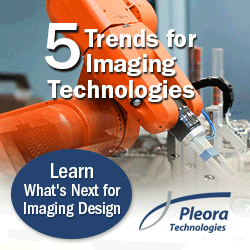 Technology development moves at a dizzying pace and the machine vision industry is no exception. Specific to imaging there is consistent innovation aimed at improving efficiencies, costs, and intelligence. Over the past 12 months, for example, new USB3 Vision™ products have driven the design of higher bandwidth, plug-and-play solutions for imaging applications. What's next for machine vision? This article examines five trends that are expected to influence imaging system design. Sign up at right to receive news and updates on the latest vision technology for medical imaging and you'll receive Five Trends for Imaging Technologies free!