As part of the France Robots Initiatives plan from the French Ministries of Industrial Renewal and Higher Education & Research, in partnership with the Rhone-Alpes Region, Innorobo will be hosting the first edition of the French Robotics General Assembly from 18 to 20 March 2014 in Lyon.
Robotics represents the next great industrial and economic revolution. Like Internet, robotics technologies are destined play a key role in all areas of our lives, from industry, energy, automobiles, logistics and transport to healthcare, insurance, telecoms and Internet to personal services, town planning, housing, everyday objects and much, much more.

Robotics is a critical factor for the industrial competitiveness of our companies and, ultimately, for both maintaining industrial production and jobs and bringing relocated industry back into the country. It provides solutions for the major societal challenges we currently face, including demographics, healthcare, autonomy, strenuous working conditions, town planning and mobility, to name but a few.
The French Robotics General Assembly is a unique opportunity for all of the business sectors in our economy to measure the opportunities for greater competitiveness, growth and innovation that robotics offers. The roundtable discussions and workshops on offer will bring experts and end users closer together.
The French Robotics General Assembly is part of the France Robots Initiatives Plan launched by the Minister of Industrial Renewal in March 2013. This plan aims to develop French robotics production and accelerate the use of robotics in business and in society at large, thus making France one of the top five countries in robotics worldwide between now and the year 2020
Featured Product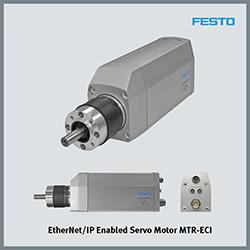 Mechatronic Motion Solutions from Festo is a unique system of components, modules, and software. It integrates all types of pneumatic, servopneumatic and (electro)mechanical automation motion and combines them according to your task. Irrespective of the control system environment you use, Mechatronic Motion Solutions always provides the appropriate interfaces. The fingers can be actively moved and their strength amplified; the operator's hand movements are registered and transmitted to the robotic hand in real time. The objectives are to enhance the strength and endurance of the human hand, to extend humans' scope of action and to secure them an independent lifestyle even at an advanced age.