Combines the functions of a wire stripper and long-nose pliers in one tool
March 18, 2014 (Lincolnshire, IL) - Klein Tools (http://www.kleintools.com), for professionals since 1857, introduces the All-Purpose Pliers, a more durable wire stripping tool that also has the functionality of a long-nose pliers.

The All-Purpose Pliers (Cat. No. J206-8C) can strip, cut, and loop 8-16 AWG solid and 10-18 AWG stranded wire, plus it has screw shearing holes. These pliers are built of forged steel with induction-hardened cutting knives for maximum durability and long life. The hot-riveted joint also ensures smooth action and no handle wobble. This tool is spring-loaded for self-opening action and features Klein's dual-material Journeyman™ handles that provide a firm grip and added comfort.
"Multi-functional tools, like the All-Purpose Pliers, are becoming more popular among electricians," says senior product manager Gary Lalla. "These tools save time, save money, and save space in the tool belt."
For more information visit our website at www.kleintools.com or contact your local distributor.
Featured Product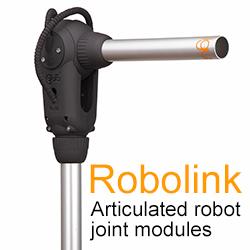 Robolink: Articulated joint modules for robots. igus® now offers a lightweight, maintenance- and corrosion-free range of robot joints for humanoid systems or other automated applications. The carbon-fiber plastic joints can rotate and oscillate freely via four wire ropes. No more expensive milling, cutting or DIY systems. Moving mass is reduced to a minimum. The actuators (engines, pneumatics and hydraulics) and the control module (DP, PC) are kept separate. Contact igus® for more information and free samples.