Demand for robotic frozen sample storage grew dramatically in 2013. The increased volume of deployments has lowered SmartFreezer® manufacturing costs and RURO customers stand to benefit.
Frederick, Maryland March 21, 2014

Today, SmartFreezer® is still the only robotic, fully automated, LN2 freezer. SmartFreezer® has also established itself to be a top choice as an automated frozen storage solution, LN2 or not, for its excellent ratio of physical footprint to storage capacity to price - which is now even lower.
RURO's sample management software, FreezerPro®, has been optimized for its role as SmartFreezer's user interface. FreezerPro® is another valued aspect of SmartFreezer® as it allows advanced running of queries and reports, controlling system access and even integrating SmartFreezer® data into other applications in the lab.
"The increased attention and acceptance of robotic sample storage has meant only good things for SmartFreezer® and its customers," says Tom Dolan, Director of Sales at RURO. "In 2013, we spent the first part of the year still talking about the benefits of frozen storage and why labs should consider it, now labs want to know about our solution compared to the others out there. Competition is good for everyone - just get a quote for SmartFreezer® to see how true that is."
For more information on SmartFreezer® or FreezerPro®, please visit http://www.RURO.com, talk to your RURO representative, or email sales(at)ruro(dot)com.
About RURO
Headquartered in the heart of Maryland's Bio Corridor, RURO develops and provides the most modern information management software solutions to more than a thousand laboratories worldwide. RURO systems can decrease staff time requirements for data entry, compilation and reporting by more than a third, and reduce user input errors by up to 97%.
RURO is Laboratory Information Bliss™.
For more information, please visit RURO online at http://www.RURO.com
Featured Product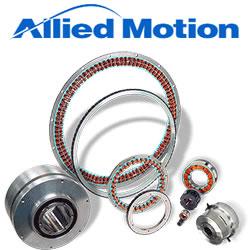 Allied Motion's Megaflux MFH170i series of 170 mm (6.7 in) diameter housed brushless torque motors consists of a high performance brushless DC torque motor, a digital servo drive, and an optical encoder, all integrated into a rugged machined aluminum housing with robust duplex bearings. The MFH0170i series features a 63.5 mm (2.5 in) large-bore through shaft, and is characterized by a very high torque-to-inertia ratio. There are three stack lengths in the series with peak torque ranging from 8.5 up to 16.9 Nm (75 up to 150 lb-in). The standard winding voltage is 48 V. And to ease the hassle of long leadtimes for prototypes, the new MFH170i is now available through our QuickShip program.