VadaTech has developed a MicroTCA Overview Guide that provides a detailed explanation of the technology, along with product examples.
Henderson, NV - Apr 4, 2014 - VadaTech, a manufacturer of embedded boards and complete application-ready platforms, has developed a MicroTCA Overview Guide that provides a detailed explanation of the technology, along with product examples.

The MicroTCA architecture has seen growing popularity in several applications. It has been adopted as the key architecture for High Energy Physics and is rapidly growing in the Mil/Aero community. To help new potential customers understand MicroTCA and AdvancedMCs (AMCs), VadaTech has developed the guide.
The MicroTCA Overview Guide is 50 pages long, with detailed section on the shelves, system management, power, cooling units, backplane, AMCs and more. The guide provides an in-depth overview into how the technology works; especially in key areas such as platform management. There are also several product examples based on the company's full ecosystem of MicroTCA products.
To get a copy of the guide, visit www.vadatech.com or email at info@vadatech.com
About VadaTech
VadaTech provides innovative embedded computing solutions from board-level products, chassis-level platforms, to configurable application-ready systems. With a focus on MicroTCA and AdvancedTCA solutions, the company offers unmatched product selection and expertise in the full xTCA ecosystem. With our unique combination of electrical, mechanical, software, and system-level expertise, VadaTech can provide customized commercial or rugged computing solutions to meet the most complex customer requirements. VadaTech also offers specialized product solutions for VPX/VME, CompactPCI, and other architectures. A member of PICMG and VITA, VadaTech is headquarted in Henderson, NV with offices in Europe and Asia Pacific.
VadaTech, Inc. www.VadaTech.com 198 N. Gibson, Henderson, NV 89052
Featured Product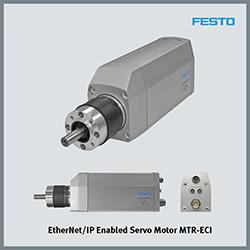 Mechatronic Motion Solutions from Festo is a unique system of components, modules, and software. It integrates all types of pneumatic, servopneumatic and (electro)mechanical automation motion and combines them according to your task. Irrespective of the control system environment you use, Mechatronic Motion Solutions always provides the appropriate interfaces. The fingers can be actively moved and their strength amplified; the operator's hand movements are registered and transmitted to the robotic hand in real time. The objectives are to enhance the strength and endurance of the human hand, to extend humans' scope of action and to secure them an independent lifestyle even at an advanced age.