Ideal for applications which demand the highest torque
Thanks to the sturdy construction, the FAULHABER metal Planetary Gearheads are ideal for applications which demand the highest torque. The new 17/1 gearhead is the latest addition to the FAULHABER gearhead product line in the 16 to 20 mm diameter range. The 17/1 gearhead is available with up to five gear stages, with standard reductions of 3.33 : 1 to 1,367 : 1.

The 17/1 series, with a diameter of 17 mm and , stainless steel housing as well as steel and hard metal Planetary Gearheads and pins, is designed for continuous torque of 550 mNm and short-term loads of up to 800 mNm. Sintered bearings provide up to 0.1mm radial play. With the version with pre-loaded ball bearing, this can be reduced to zero. The operating temperature range is between +100 and -30 °C by default. The gearhead is also available as a low-temperature model for requirements down to -40 °C.
For more information, please contact the MICROMO Team today.
Featured Product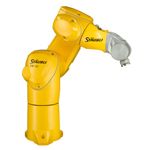 Introducing the TP80 Fast Picker, a new series that delivers speeds in excess of 200 picks per minute, and more flexibility at a lower cost. Stäubli has long set the standard for high speed and precision in robotic performance, ensuring the highest possible throughput and shortest cycle times.