New high-speed, coil-fed laser blanking process produces complex shapes of superior quality from a variety of materials.
Perrysburg, OH April 22, 2014

LaserCoil Technologies LLC, specializing in advanced technologies for laser cutting blanks from coil, is now providing pre-production, prototype and low volume production part runs at its technical headquarters in Perrsyburg. The patented LaserCoil system can process up to 20,000 pieces/run from a variety of coil material including aluminum, mild steel, advanced high-strength steels (AHSS) and more, producing surface sensitive panels as well as structural components in thicknesses from 0.5 to 3.5mm (0.02" - 0.14") and up to 1.9m (75.00") wide coil at any length. Additionally, the system can achieve complex curvilinear shapes for near-immediate 'idea to net shape' components.
"We're experiencing especially high interest in coil-fed laser blanking of the new AHSS materials and aluminum," said Jay Finn, LaserCoil Chief Technical Officer. "In these materials we achieve impressive yield rates and better quality than traditional stamping as our laser cutting process eliminates edge micro-fracturing problems that can lead to splits during the drawing of a blank."
The LaserCoil fiber laser and proprietary optics process achieves near-zero dross with a minimal heat-affected zone. This provides consistent edge quality to deliver components that are laser welding-ready, eliminating the need for a reshearing process. This cleaner edge also leads to improved formability.
Finn added that the flexibility of the LaserCoil system can also help companies facing potential die repair or late die delivery issues, as well as material shortages. As there is no need for traditional press dies, setup simply requires programming for the new component. This allows for the same part to be cut from a wide range of different coil widths. The company also offers feasibility studies on new components or prototype parts to help ensure that design, materials and processes are optimal for a given part.
Interested companies should contact Jay Finn at 419-591-7012 or visit http://www.lasercoil.com.
About LaserCoil Technologies: LaserCoil Technologies LLC provides metal fabricating systems and solutions featuring advanced and patented technologies for laser cutting of blanks, based on over half a decade of research and successful production runs since 2011. The technology originated out of Automatic Feed Company, a known innovator in pressroom automation with nearly 65-years manufacturing expertise focused on blanking and cut-to-length lines. This depth of experience provides LaserCoil the right qualifications to deliver effective and unique press feeding technology to the market.
Featured Product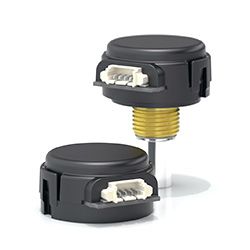 US Digital is pleased to announce the launch of the E4T, their latest series of miniature high performance optical encoders. The E4T series delivers a marked performance increase over similar encoder models and designed to be an enhanced replacement for the E4P encoder series. The E4T utilizes state of the art transmissive optical sensing technology, and incorporates US Digital's own proprietary OptoASIC. Assembly of the E4T is simple and efficient and retains the previous E4P's form factor. Key features of the new E4T include: • Mechanically and Electrically Interchangeable with E4P • Improved Quadrature Signal Strength • 100 kHz Frequency Response • Transmissive Optical Design • Collet Style Push on Optical Disk Design (Patent Pending) • Simple & Efficient Assembly Process As with all of our products the E4T is designed and manufactured in their Vancouver, Washington USA facility and is available for purchase as of December 2014.