User-Friendly Navigation and Architecture
Wixom, Michigan, USA - Kawasaki Robotics (USA), Inc. is proud to announce the launch of a redesigned website that offers added functionality and a superior user experience. The new site boasts a brand-new look and feel as well as an updated architecture and navigation framework that makes it even easier for users to find relevant content and engage with Kawasaki's team.

Kawasaki's website redesign aims to enhance every aspect of the user's experience, from information-gathering through sale interactions and ongoing product support. Product information that was previously available for download in PDF form has been added to the main body of the site, dramatically reducing the time and effort needed to find top-level content and detailed information about the company's offerings. In addition to improving the online search visibility of Kawasaki's products, this initiative improves the experience of smartphone and tablet users who wish to view specifications and other details.
To further improve the ease with which prospective buyers navigate the redesigned website, Kawasaki has created a new architecture that intuitively organizes the company's products, solutions and services to deliver key information to time-pressed users. Three well-defined buyer paths promise to assist buyers searching for applicable products as well as those looking for industry- or application-specific offerings.
For experienced clients, a robot search feature is available on every page of the website to assist with quick product lookups and easy product comparisons using high-level mechanical specifications and/or application criteria. Additionally, each page of the new site now has complete "share" functionality through Twitter, Facebook, Google Plus and LinkedIn. With these tools, users can easily connect their colleagues and partners with relevant Kawasaki products.
"We began the website overhaul with several key objectives in mind," said Yanik Van Coppenolle, Marketing Manager, Kawasaki Robotics (USA), Inc. "Chief among these objectives was making it easy for prospective buyers and existing customers to search for the products and information they need. We are thrilled with the redesign and feel that visitors will really appreciate the ease and functionality it offers."
About Kawasaki Robotics (USA), Inc.
Wixom, Michigan-based Kawasaki Robotics, a subsidiary of Kawasaki Heavy Industries, Ltd., Robot Division of Japan, is a leading supplier of industrial robots and robotic automation systems with a broad product portfolio, able to service a wide range of applications across diverse industries. With more than 110,000 robots in operation across the globe, the company has over four decades of experience at the cutting edge of the robotics sector and is renowned for producing the highest quality robots and most technically advanced controllers on the market. Kawasaki Robotics' sales and service offices are conveniently located throughout North and South America.
More information is available at www.kawasakirobotics.com.
Featured Product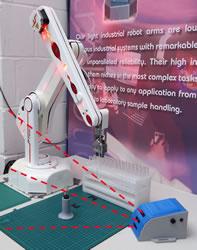 The 6-axis version of the R17HS high speed variant of the R17 robot is now available. As is our policy the 6th axis is an optional bolt-on module. At the same time we have made it even faster and new software eliminates shake and greatly improves repeatability as this video shows. Please see https://www.youtube.com/watch?v=3wG0MeiJ-yE. The video would seem to imply a repeatability of 0.01mm but we are sticking with 0.2mm in the spec. The motor specialist was able to tune the motors from the other side of the pond. My first reaction when we put power on and entered the first commands was to jump back in amazement (and maybe an expletive). Tip speed is now 3m/s; that's 3 times as fast as its nearest competitor yet costs half the price. I love it when a plan comes together.