The Silent Falcon photogrammetric package is designed to collect mapping-quality image data on long-endurance, extended-range UAS missions.
Silent Falcon UAS Technologies today unveiled a fully integrated photogrammetric sensor package that flies aboard the solar-electric powered Silent Falcon™ Unmanned Aircraft System. Incorporating the custom Falcon XCAM-A camera system, Pix4D processing software and LizardTech compression technology, the Silent Falcon photogrammetric package is designed to collect mapping-quality image data on long-endurance, extended-range UAS missions.

Silent Falcon introduced the new photogrammetric package at the AUVSI Unmanned Systems 2014 Conference in Orlando and will display the technology along with a full-scale Falcon UAS in exhibit booth #2353. The AUVSI Exhibit hall will be open tomorrow, May 13, through May 15, 2014.
"The Silent Falcon UAS is unique among affordable unmanned aircraft systems because it can carry up to 11 different payloads and stay aloft for eight to 12 hours," said David Ward, Silent Falcon vice president of sales and marketing. "Silent Falcon's airborne stability, ultra-long endurance and interchangeable sensors make it ideal for diverse missions including photogrammetric mapping, search and rescue, and surveillance."
Designed for commercial, public safety and defense applications previously served by much larger and more expensive aerial systems, Silent Falcon is an affordable and portable turn-key UAS. In the air, the high-efficiency electric engine and quiet six-blade propeller are powered by thin film photovoltaic cells embedded in the wing, supported by a lightweight carbon-fiber airframe. Each sensor package captures data that can be stored onboard or downlinked in real time via advanced communications to the ground where custom processing software generates a variety of imagery and mapping products.
"We are now accepting orders for Silent Falcon systems to be delivered anywhere in the world," said Ward. "The systems are being manufactured at our assembly facility in Albuquerque and are supported by a global sales and service network."
The new Silent Falcon photogrammetric sensor package includes the Falcon XCAM-A camera system developed by WaldoAir Corp. Customized for Silent Falcon, this digital airborne camera system includes an integrated GPS/IMU for collection and production of georegistered imagery mosaics with 3D terrain elevation data. The Pix4D software has been optimized for production of photogrammetric imagery from the small-format XCAM-A camera, and the LizardTech software achieves a 700/1 compression to support collection of extremely large data sets on long missions.
"The Falcon XCAM-A photogrammetric payload is designed for mapping applications in which horizontal and vertical data accuracy are critical," said Ward.
In addition to the Silent Falcon XCAM-A photogrammetric system, two other sensor payloads are available for order now. The Silent Falcon Discoverer is the only UAS payload incorporating a state-of-the-art Mid-Wave Infrared (MWIR) camera capable of capturing still and video MWIR imagery. The Silent Falcon FalconVision™ is comprised of a high-definition dual color/thermal imager with a gimbal mount capable of pointing and pivoting for surveillance and situational awareness applications.
Custom multispectral, hyperspectral and aeromagnetic payloads are now under development.
About Silent Falcon UAS Technologies
Based in Albuquerque, Silent Falcon UAS Technologies was established to bring state-of-the-art technology to small Unmanned Aerial Systems (sUAS). Silent Falcon incorporates the latest proven technological advances in solar power, batteries, composite materials and aeronautical design. The Silent Falcon sUAS is the most effective aerial platform for carrying leading edge sensors that collect, transmit and store the data and imagery required for a rapidly growing number of global commercial, public safety and traditional defense/security ISR applications. Silent Falcon is supported by a global sales and service network. For more information, visit www.silentfalconuas.com or call 505-503-6153 or 206-855-0910.
Featured Product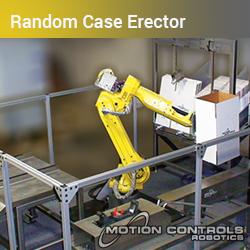 Random Case Erectors are ideal for fulfillment centers and other end-of-line packaging needs. Save money by eliminating changeover downtime. Reduce ergonomic injuries by eliminating repetitive manual tasks. The Random Robotic Case Erector System includes: • FANUC M20iA/20 Robot • Combi gravity case magazine - holds 2 box sizes • Combi bottom flap folder with integrated 3M case sealing head. • Fixed robot base, anchored to the floor • Flexible end of arm tool to pick and erect multiple case sizes to eliminate changeover downtime • System wiring and controls • Color 7.5" touchscreen HMI display for selecting case size • Perimeter guarding with safety interlocks on doors • Programming for Robot, PLC/PMC, HMI and Vision • Complete documentation in electronic format • On-site training and support • Compliance with all applicable robotic safety standards. Alternate safety configuration may be available to allow an operator to changeover a case size in one magazine while the robot continues to work in other magazines. Contact Motion Controls Robotics to learn more about how to implement this system into your current end-of-line operations.