Sinclair announced the completion of a first-of-its-kind class for the Nova Block III UAV, built by Florida UAS manufacturer Altavian
ORLANDO, FLORIDA - Sinclair Community College unveiled new components of its unmanned aerial systems (UAS) program at a press conference on Wednesday, May 14, at the annual conference for the Association for Unmanned Vehicle Systems International (AUVSI) in Orlando, Florida.

Building on a strong foundation of collaboration with industry leaders in the emerging UAS field, representatives from Sinclair announced the completion of a first-of-its-kind class for the Nova Block III UAV, built by Florida UAS manufacturer Altavian.
Sinclair and Altavian developed the curriculum, building on the college's online COA Smart course which provides necessary background information on operating a UAS in national airspace. Students then receive in-person classroom and aircraft specific training sessions designed specifically for the Nova Block III vehicle, a professional grade UAS that meets the needs of industry and government clients.
"Sinclair is very proud to be the original equipment manufacturer (OEM) training provider for Altavian, and the completion of the first class in this partnership is a highlight of the many advances we're making with the UAS Training and Certification Center," said Deb Norris, Vice President of Sinclair Workforce Development. "Our goal is to expand this type of training to other companies in the industry who are looking to develop customized training for their UAS platforms."
John Perry, CEO of Altavian, was on hand for the press conference, along with Jeff Lovin, Senior Vice President and Director of Geospatial Services at Woolpert. Lovin addressed the importance of Sinclair's continued partnerships with UAS industry leaders across the country and its connection to the collection of data and data processing.
"Sinclair's status as an OEM trainer has helped to create a strong three-way partnership between the college, Altavian and Woolpert," said Lovin. "This partnership is helping our progress at Woolpert to innovate and develop additional geospatial and mapping capabilities."
In addition to expanding partnerships and adding training and programming in the areas of first responder leadership and precision agriculture, Sinclair has collaborated with academic institutions and businesses in the UAS market to develop the first Journal of Unmanned Aerial Systems. The journal will be a peer-reviewed publication, issued biannually, and will be available online with open access.
"Our vision for the journal is to cover the entire ecosystem necessary to operate UAS, not just solely focusing on the vehicles themselves," said Dr. Andrew Shepherd, Director of UAS at Sinclair. "We'll be exploring topics relating to ground control stations, communications, security, sensors, legislation, data exploitation and more. The plan for the journal is to become a hub for information that is important to the industry and to explore new ways of applying UAS technologies."
Shepherd will serve as the managing editor of the journal, and will be joined by Dr. Matt Hutchinson from Woolpert, Dr. Brent Terwilliger from Embry-Riddle Aeronautical University, Dr. John Bridewell of the University of North Dakota and Dr. Ben Wilkinson of the University of Florida.
The journal will serve as the vetting abstract for the upcoming Ohio UAS Conference taking place in Dayton in August. A special first edition will be published and distributed at the opening of the conference.
Featured Product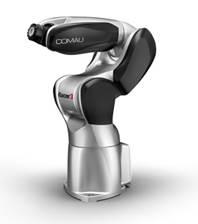 Racer3 is a powerful, high-speed, 6-axis articulated robot featuring a payload of 3kg and a reach of just 630 mm. Built from high-strength aluminum, the newest innovation in Comau robotics is lightweight and can be easily mounted on benches, walls, ceilings or on inclined supports. The third robot within the award-winning Racer family, Racer3 is Comau's response to the growing demand for fast, cost-effective robotic automation within small to medium-sized enterprises and emerging countries. Racer3 is intended for general industry use to increase productivity and reduce overall costs by automating industrial applications. It combines field-proven technology and enhanced dexterity with a keen focus on safety, design and product aesthetics. With a streamlined design and brushed metal exterior, the new powerhouse of a robot combines beauty and speed together with absolute precision and repeatability. Primary applications include assembly, material handling, machine tending, dispensing and pick & place.