SpotterRF Shield Mobile radar system provides lightweight man-portable turn-key camera cueing
TAMPA-

SOFIC 2014 May 20, 2014 -- SpotterRF today announced its new Shield Mobile radar system for military, government and commercial use. Following on the announcement of its popular Shield robotic perimeter security Initiative, the SS Mobile provides U.S. military a non-ITAR-restricted system usable by allies after completion of a U.S. deployment. It further provides a low-cost, portable radar system that maximizes small force ability to detect, classify, communicate and respond to perimeter threats with slew-to-cue capabilities.
"Response has been very positive to our turn-key solutions with camera cueing to reduce overall system cost," states SpotterRF CEO Logan Harris. "This new Spotter Shield Mobile kit puts the power of radar and camera slew-to-cue surveillance into man backpackable kit that is easy for local forces to use and maintain."
Achieving a secure perimeter has never been easier, but an effective security system exhibits the following four criteria: reliably detect intruders that entered the perimeter day or night and in all types of weather; classify the intruder; communicate the existence of the intruder to the response team; and then respond to neutralize the threat prior to that threat inflicting damage. Spotter Shield Mobile provides the first three criteria in a commercial off the shelf, cost effective package.
The Shield Mobile enables up to 360-degree field of view up to 1500 meters regardless of weather, day or night. The system includes an embedded NetworkedIO server built-in with a rugged Ethernet hub that cues a low light PoE camera and creates other alarms. For more information about the system, visit http://spotterrf.com/slew_to_cue_commercial_force_protection.html.
At the heart of Spotter Shield systems, SpotterRF's proprietary NetworkedIO is the hardware and software that overcomes the difficulty and expense of connecting radar to other devices like Video Management Systems (VMS), cameras, email and alarms. SpotterRF and its resellers aim to bring this high-end targeting and tracking capability to a wide range of military and commercial applications including mobile small force protection, oil wells, oil drilling platforms, substations, dams, bridges and other mission critical environments.
Spotter compact radar units come in many sizes, weighs as little as 1.5 lbs. each, use less energy than a light bulb (approx. 8W each), and can communicate with standard web browsers and Google Earth. Training takes less than 30 minutes in the field.
About SpotterRF
SpotterRF provides the world's most advanced Compact Surveillance Radar (CSR) system for perimeter security and force protection. Made in the USA and engineered for extreme conditions, SpotterRF technology is the most compact, lightweight, energy efficient, and cost-effective radar for elite warfighters and critical infrastructure requirements. For a more information, visit http://spotterrf.com/slew_to_cue_commercial_force_protection.html.
Featured Product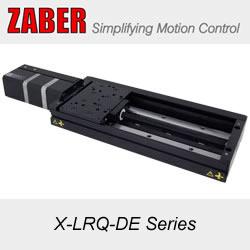 Zaber's new and improved stage (X-BLQ-E) is a closed-loop, belt-driven motorized linear stage with built-in motor encoder and controller. With travel lengths up to 3 m, 10 µm repeatability, and a maximum speed of 2.0 m/s, X-BLQ-E stages are perfect for rapid positioning over large distances. A built-in motor encoder allows closed-loop operation and slip/stall recovery, and an optional indexed knob provides manual control for operation without a computer. Like all Zaber products, the X-BLQ-E Series is designed for easy set-up and operation.