On 27-29 November 2014 Moscow ECC "Sokolniki" will host II Annual Exhibition of Robotics and Advanced Technology Robotics Expo 2014.
First Robotics Expo was held in the fall of 2013, immediately winning positions in the market and becoming a fundamental part of global robotomania development in Russia.

"We are pleased that our event has become the first professional platform for robotics developers and distributors, and that with each passing day not only geeks and engineers, but also ordinary people of all ages and professions are getting more and more interested in new technologies. Observing this trend, we can say that the audience of Robotics Expo will only grow," Ekaterina Eremina, curator of Robotics Expo, says.
According to registration board, over 3,500 people attended Robotics Expo 2013, 150 participated in scientific and educational conference. Leading industry experts were speaking at the conference: Marina Fridin - Israeli researcher of assistive robotics, Ludger Hovestadt - Professor ETH Zürich (Switzerland), Amin Rigi - Director of RTS Lab (Iran), Vyacheslav Kravtsov - Rbot, Julia Antoschenkova - Bosch brand manager and others.
The event also caused an unprecedented interest in the media. Exhibition was given coverage by: Russia1, Russia Today, Moskva24, Forbs, LifeNews, The Village and others.
In 2014, organizers promise to unlock the potential of robotics in Russia and attract as many representatives of foreign companies as possible to share experiences and innovations. The event will be a major business platform for all industry participants - robotics manufacturers, developers of software and applications for robots, representatives of scientific and educational institutions, government agencies, startups, investors and all those interested in innovative technologies.
The first day of the exhibition will be of B2B format. The next two days the exhibition will be open to everybody interested.
In 2014, the exposition of Robotics Expo will become even wider and more exciting. The exhibition will also feature one of the most promising directions in Russia - "Industrial Robotics".
Among the proposed thematic areas in 2014:
• Service Robotics (robots bartenders, robots for washing windows, robots waiters, robots cleaners);
• Robots promoters, entertainment robots, toys;
• Telepresence robots;
• Robotic vehicles;
• Drones;
• Robots for security (security drones, robots patrolling the area);
• Educational robots for children;
• Household personal robotics;
• Personal, recreational, social and rehabilitation robots;
• Exoskeletons, robotic limbs and organs;
• 3D printers, AR technology for business use;
• Smart things, gadgets, devices.
In addition to the standard exposure, participants will enjoy platforms for testing robotics, virtual reality area, comfortable lounge area for socializing, Speed Dealing platform for startups, area of quadcopters and drones, and special interactive stage for performances of futuristic robots artists.
Register here.
Contact information:
www.robot-ex.ru
For exhibitors - a.lastovka@smileexpo.ru
For speakers - m.shamjy@smileexpo.ru
For media - e.eremina@smile-expo.com
For visitors - n.grinchenko@smileexpo.ru
Tel. : +7 (495) 212 11 28
Featured Product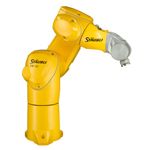 Stäubli offers a complete range of robotic tool changing systems for payloads of 20 kg to 1,530 kg and torsion moments from 30 to 12,500 Nm, designed for use in virtually every industry. The tool changers adapt to customer-specific applications with different modules for media, data, power, etc. The new MPS 130 robotic tool changer is powerful, very robust, and designed for a huge range of applications. It features multiple couplings for air/vacuum connections, and can be equipped with connectors for data and electrical transmission. Very compact dimensions, with a coupled height of only 67 mm, make the MPS 130 the first choice for applications requiring a high number of mating cycles.