Chiocchio gained most of his lean experience and training over the past 21 years, first working as a manufacturing manager at Sony Electronics.
PITTSBURGH, PA—Seegrid Corporation, the leader in robotic vision-guided automated guided vehicles (AGVs), recently continued staff expansion to meet product demand. The Pittsburgh-based robotics leader welcomed Tim Chiocchio as the new lean project manager.

Chiocchio shared his excitement about joining the Seegrid team, "The biggest factors in joining Seegrid relates directly to the culture set by the management team. The entrepreneurial spirit of its employees and the overall vision the company is addressing with automated solutions will pioneer new frontiers in material transportation for manufacturing, distribution, and warehousing. These efforts make our customers safer, productive, and ultimately more stable and competitive." Chiocchio will report to John Mazock, Vice President of Manufacturing.
Mazock noted, "In looking for a person that could support customers with lean initiatives, I needed to have someone that could 'walk the walk.' Chiocchio is exactly that person. He has the ability to go into a facility, identify opportunities for improvement, and provide support for a successful implementation."
Chiocchio gained most of his lean experience and training over the past 21 years, first working as a manufacturing manager at Sony Electronics. Chiocchio was trained under the Toyota Production System Principles and gained vast experience in lean and its application to production process improvement and material flow. Chiocchio became a Six Sigma Black Belt and ultimately was responsible for coordinating, implementing, and sustaining all continuous improvement kaizen activity. He had several opportunities to visit other Sony television and other electronic manufacturing plants in the United States, Mexico, Japan, and South Korea. Participating in these kaizen events provided valuable training in process improvement activities and capturing best practices.
About Seegrid
Seegrid Corporation (www.seegrid.com) is the global leader of robotic vision-guided automated guided vehicles (AGVs). Seegrid AGVs are revolutionizing the movement of materials handling in manufacturing and distribution environments with simplicity, flexibility, and affordability. Robotic pallet trucks, tow tractors, and walkie stackers optimize workflow processes by increasing productivity and reducing labor and operating costs, creating economic and operational advantages. Seegrid AGVs improve workplace safety, reduce equipment and product damage, and deliver a rapid return on investment. The company's state-of-the-art navigation technology requires no infrastructure for navigation—no wires, lasers, tapes, or magnets.
Guided by Seegrid partnerships with leading global industrial truck manufacturers provide businesses with a choice when selecting a brand of robotic vision-guided AGVs. Seegrid and Guided by Seegrid products are available in North America and Europe.
In addition to the 2014 Edison Award, Seegrid was named Manufacturer of the Year and the Food Logistics Top 100 software and technology providers. Follow on Twitter @Seegrid.
Featured Product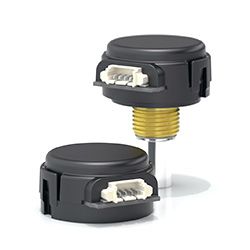 US Digital is pleased to announce the launch of the E4T, their latest series of miniature high performance optical encoders. The E4T series delivers a marked performance increase over similar encoder models and designed to be an enhanced replacement for the E4P encoder series. The E4T utilizes state of the art transmissive optical sensing technology, and incorporates US Digital's own proprietary OptoASIC. Assembly of the E4T is simple and efficient and retains the previous E4P's form factor. Key features of the new E4T include: • Mechanically and Electrically Interchangeable with E4P • Improved Quadrature Signal Strength • 100 kHz Frequency Response • Transmissive Optical Design • Collet Style Push on Optical Disk Design (Patent Pending) • Simple & Efficient Assembly Process As with all of our products the E4T is designed and manufactured in their Vancouver, Washington USA facility and is available for purchase as of December 2014.