Improved Tabletop Robot for Cell Production Applications, Featuring Significantly Higher Payload, Maximum Speed and Rigidity!
Intelligent Actuator Inc. announces the release of its new TTA Series Tabletop Robots. Features include:

• Significantly Higher Payload and Maximum Speed-
Max Payload: Work Part Side (X Axis): 20 kg, Tool Side (Z Axis): 5 kg
Max Speed: X Axis: 800 mm/sec, Y Axis: 800 mm/sec, Z Axis: 400 mm/sec
• Stores Much More Programs and Positions-
The larger memory lets you store much more programs and positions. The additional data recovery function makes sure the original data can be restored should writing to a FLASH drive fails due to a power failure.
• Three Times As Many I/O Points As Conventional Models-
When the standard I/O slot isn't enough, up to two additional expansion I/O slots can be installed.
Inputs/outputs: 16 points/16 points. Expandable up to 48 points/48 points
Field Networks: CC-Link, DeviceNet, ProfiBus, EtherNet/IP
• More Variations-
Four operating ranges are available to choose from. The 3-axis specification is available in two types of Z-axis strokes: 100mm and 150mm. You can select a model ideal for the size of your work part. Additional options let you change the Y-axis height and position.
Information on the TTA Series Tabletop Robots from IAI can be viewed at the link below-
http://www.electromate.com/products/series.php?&series_id=101384
For more information, please contact:
EDITORIAL CONTACT:
Warren Osak
sales@electromate.com
Toll Free Phone: 877-737-8698
Toll Free Fax: 877-737-8699
www.electromate.com
Tags: Intelligent Actuator Inc., IAI, Electromate, TTA Series, Tabletop Robot, Pick & Place Robot
Featured Product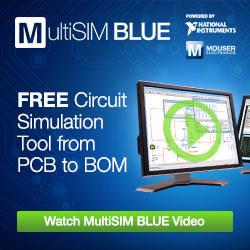 Powered by NI, MultiSIM BLUE Upgrade includes schematic capture, simulation, PCB layout, BOM-to-cart capabilities using only one tool. No more switching between different programs for circuit design. Perform MCU co-simulation. New voltage, current and power probes as well as faster active analysis mode are also available. Plus, it even comes with an expansive database of new components from industry-leading manufacturers. Discover why EDN named MultiSIM BLUE a HOT 100 Product of the Year.