Two affordable product lines expand Scalance W portfolio---- Access points and client modules feature compact designs---- 150 Mbit/s and 300 Mbit/s bandwidths, according to the IEEE 802.11n standard
Siemens Industry introduces two industrial wireless LAN (IWLAN) product lines to better meet the growing demands of wireless applications where footprint and affordability is key. With these additions Siemens now offers the most complete line of industrial wireless products in the market.

With its reduced footprint the compact Scalance W761-1 RJ45 access point and the Scalance W721-1 RJ45 client module provide an affordable solution for wireless machine networking from inside a cabinet. Additional cost and space savings are possible when the new access point and client module are paired with Simatic ET 200SP distributed I/O. Both the access point and the client module offer an IP20 degree of protection and up to 150 Mbit/s transmission rates.
Featuring a compact and robust aluminum housing, the Scalance W774-1 RJ45 access point and the Scalance W734-1 RJ45 client module offer transmission rates up to 300 Mbit/s, while still maintaining a small footprint. For added flexibility these modules can be rail or wall mounted, or directly mounted flush to Siemens Simatic S7-1500 CPU or ET 200MP distributed I/O. Additionally, these units also offer a slot for the iFeatures Key-Plug and Power-over-Ethernet (PoE).
Featured Product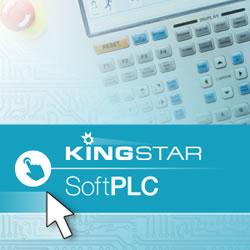 KINGSTAR Soft Motion is an open and standards-based, real-time software-only solution that streamlines motion control automation. Soft Motion runs directly on the 64-bit PC, uses the NIC card for I/O, and uses the powerful EtherCAT protocol to free you from the shackles of proprietary and costly hardware. With Soft Motion, motion control engineers can design, develop and integrate real-time PC-based machine controllers in a "plug-and-play" environment for consolidated, inexpensive and scalable motion control.